SILVER SURGES ON RECORD DEMAND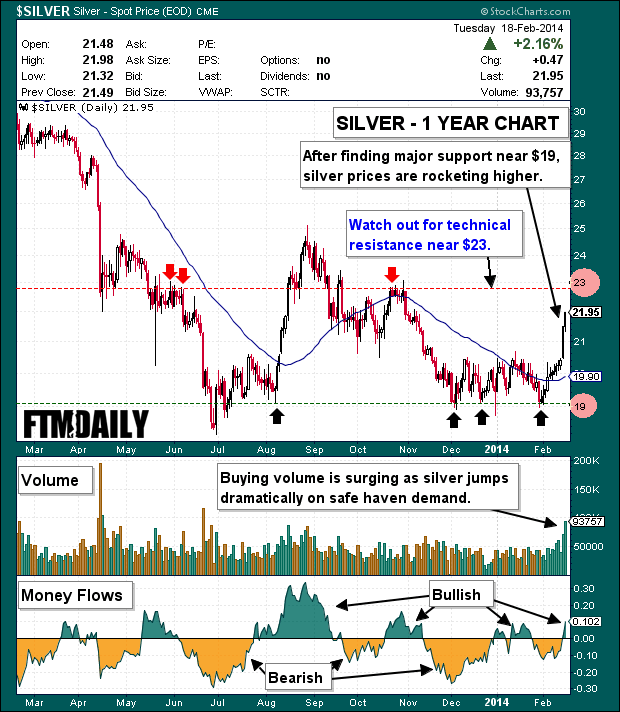 Silver Posts Longest Rally in 45 Years as Global Investor Demand Explodes
— 7 Facts About Silver Prices —

After rising in price for 12 straight days, silver has posted its longest rally in at least 45 years as global demand for an investment alternative grows amid concerns that the global economy is heading for a fall.

Since 1913, silver has increased 3.78% compounded annually. Since 1971, silver has increased 7.00% compounded annually. Since 2001, silver has increased 15.17% compounded annually.

So far in 2014, silver prices have surged by 13%.

Silver premiums are increasing as demand soars.

Trading volume has more than doubled versus the average in the past 100 days.

The U.S. Mint sold 42,675,000 American Eagle Silver Bullion coins in 2013, which is 26% more than the 33,700,000 coins sold in 2012. This is a new single year record for the most purchased since the U.S. Mint began producing the one-ounce silver coin in 1986. And so far, 2014 is starting off with a "bang" with sales of silver coins by the U.S. Mint almost quadrupling in January to 4.78 million ounces from December.

And it's not just the U.S. Mint. Mints around the globe are reporting sharp increases in investor demand. Sales of the Austrian Silver Philharmonic increased 62% in 2013. The Canadian Silver Maple Leaf saw a 60% increase, and sales of the Perth Mint's Silver Kookaburra bullion coin rose by 41% last year.
Precious Metals Market Update with Tom Cloud
New ETFs Are Bullish Signal For Gold
Have a question for Tom Cloud? Call him direct at (800) 247-2812
Sign up for Tom Cloud's Precious Metals Investing News Alerts

(We will never sell or share your email with anyone.)
---
Inside this Issue
---

"Preparing — and Profiting — From the Coming Collapse"
And guess who comes to the rescue…
Some economists have argued that the rapid rise in stocks could encourage some older Americans who delayed retirement during the downturn to finally to leave their jobs.
U.S. consumer debt soared by $241 billion in the last quarter of 2013, the sharpest quarter-to-quarter spike since 2007.
Investors will be looking for Fed's view on the economy.
So far this year only 54% of the 360 Asian companies that have reported quarterly earnings have beat profit expectations.
View the Investor Wire Archive >>
U.S. Financial Markets
Real-time Gold and Silver Prices
---

"World News Headlines That We Are Tracking"
Explosions are taking place, fireworks are being thrown, large fires have broken out in Independence Square, and the death toll is rising in the worst violence seen in weeks.
President Nicolas Maduro blames anti-government protests on outside influences, which he says wish to "seek to generate violence in the country."
Scientists have been left scratching their heads over the quakes, which are becoming more frequent each day.
Hong Kong man becomes 7th banker to die under mysterious circumstances.
---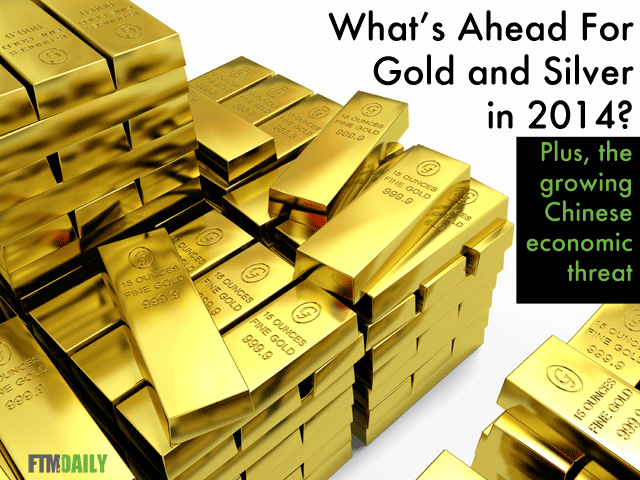 PODCAST: What's Ahead for Gold & Silver in 2014?
Broadcast Every Saturday Morning – Hosted by Jerry Robinson


Topic: On this week's episode, Jerry Robinson explores the precious metals markets, gives guidance on U.S. stocks and warns about China.
Read Show Notes >>
Download Now >>
(Right click link above and 'save as' to your device)
Other Listening Options
---

"Archiving the Rise of Big Brother, the Erosion of Personal Liberty, and the Fall of the Republic"
New Snowden leak reveals covert surveillance and pressure tactics aimed at WikiLeaks and its supporters.
"Your phone is your user ID and your palm is your password."
One monkey could control the body of another monkey using thought alone by connecting the brain of the puppet-master monkey to the spine of the other through a prosthesis.
View the Liberty Wire Archive >>
---

"Daily Investment Trends for the Savvy Investor"
You are attempting to view premium content for subscribers only. If you are a subscriber, log in here. If you are not currently subscribed, you can learn more here.
View the Daily Chart Archive >>
---

"A Daily Stock Trading Idea for Short-Term Traders"
— Subscribers Only —
You are attempting to view premium content for subscribers only. If you are a subscriber, log in here. If you are not currently subscribed, you can learn more here.
Enter the Trading Room to View all Trading Activity >>
View our Trading Performance >>
Not a subscriber? Learn more here >>
---


"A Daily Dose of Financial Wisdom from God's Word"

"Keep your life free from the love of money, and be content with what you have."
Hebrews 13:5
---
---