Where Your 2011 Federal Tax Dollars Went
By Jerry Robinson, FTMQuarterly Editor-In-Chief
The Federal Income Tax deadline was two days ago (April 17), so I hope you filed on time or filed an extension to avoid those penalties. As you wrote that check to the IRS, did you happen to ask yourself, where is this money going? How will these dollars be allocated, and even more importantly, are these dollars helping to secure our borders and protect individual liberty?
Well, the White House's Office of Management and Budget has graciously given us some information to help us answer this question. Here is how your tax dollars were allocated in 2011.
[private]
For every $1 of taxes you paid:
$0.27 went to the Military
$0.21 went to Medicare and Health expenses
$0.14 went to the INTEREST ON THE NATIONAL DEBT (that's 14% of your tax dollar)
$0.12 went to Social Security and Labor (i.e. unemployment checks)
$0.04 went to Veterans' Benefits
The rest went to various federal government programs. You can see the breakdown in the chart provided.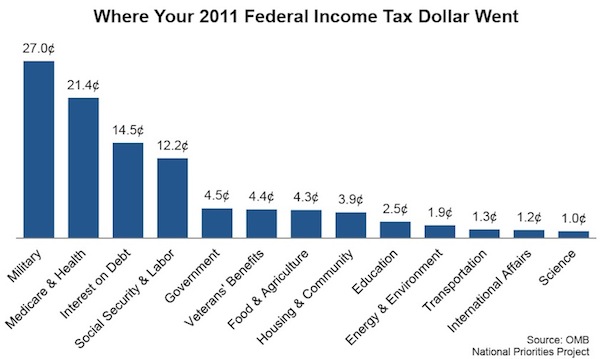 So, is our government protecting our borders and our freedom? The way we interpret the data would say "No." Although the military gets the biggest piece of the pie, much of this budget goes to our efforts in the Middle East or to one of our numerous bases around the globe ,not to efforts within our borders. The next three budget items include Medicare, Interest on debt, and Social Security. These items represent excess spending and failed government programs, not exactly protecting our liberties. It is this excessive spending and entitlement-promising government that is leading the nation off an economic cliff. Get prepared for the coming inflation by staying informed and taking action now.
---
The above article is an excerpt from our Spring 2012 FTMQuarterly Investment Newsletter. To read the entire newsletter, click here.
---

Jerry Robinson is a leading authority on the petrodollar system and global economic issues. He has spoken on the petrodollar system and global economics around the United States, in Europe, and in the Middle East. He is an Austrian economist, published author, columnist, international conference speaker, and the editor of the financial website, FTMDaily.com. In addition, Robinson hosts a weekly radio program entitled Follow the Money Weekly, an hour long radio show dedicated to deciphering the week's economic news. For media inquiries, click here. 
[/private]