"Daily Investment Trends for the Savvy Investor"
THE UNPRECEDENTED RISE OF CHINA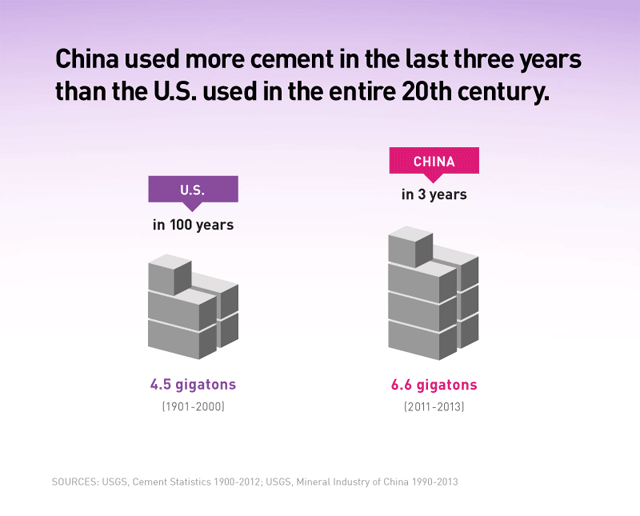 The Meteoric Rise of China Captured in a Single Infographic
When I first saw this graphic last year on billionaire Bill Gates' blog , I was absolutely blown away.
In a three year time-span, China used more cement than the U.S. was able to consume during the entire 20th century!
This fact is just one of many mind-blowing figures assembled in a book entitled: Making the Modern World: Materials and Dematerialization, written by Professor Vaclav Smil from the University of Manitoba.
Put simply, China's meteoric economic rise is unlike anything the world has ever witnessed.
Still, many in the West refuse to admit the reality of China's future economic dominance. The Western corporate-owned (and therefore, controlled) media outlets constantly attempt to play down China's continued economic expansion.
But facts are stubborn things.
Great Britain learned this at the beginning of the 20th century, as its centuries-long economic dominance was being eclipsed by a burgeoning United States.
Some in Britain continued to live in denial of their loss of global economic supremacy to America well into the mid-20th century. Like America and China today, Britain could hardly believe that the rise of "backwoods" Americans had triumphed over their perfect empire. But America's economic defeat of Britain was confirmed to all at Bretton Woods, where the U.S. dollar officially became the global defacto currency.
I could rattle off statistic after statistic explaining China's economic ascent, including why it is real and sustainable.
But infographics like the one above convey so much more than words.
(Additionally, if you have not seen the 1987 vs. 2013 pictures of Shanghai — China's financial district — you should see for yourself here.)
Like it or not, China is rising. Sure, it will have many hiccups en route to global economic supremacy. But so did America prior to its ascent to global hegemony. (1929 anyone?)
Final Analysis: Don't be a long-term China "denier." It's bad for your financial health.
Until tomorrow,
Jerry Robinson
Join Our Online Trading Community
Want to receive one new profitable trading idea each day by email or text? Unlock our Daily Trading Idea for only $99/year (or just $9.95/month). No risk offer, cancel anytime. LEARN MORE
---
— Paid subscriber access only —
View our Plans and Pricing here
---
Real-Time Market Update

(Courtesy of Finviz.com)
---