For Gold member Members Only (Member Login)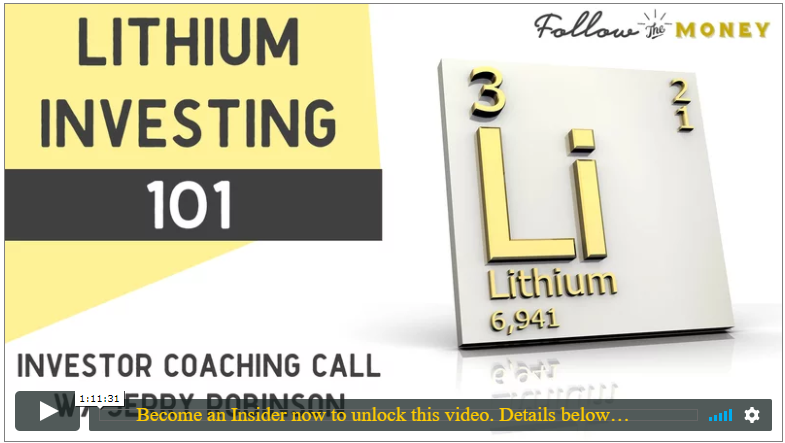 Topics Covered on this video coaching call (in order)
Lithium prices are roaring higher in 2017 as the global electric car revolution picks up speed. Economist and Trading Coach Jerry Robinson presents a highly informative and compelling report on the electrifying future of lithium. Later, he reminds us of the hard, grim facts about the U.S. economy in the face of a seemingly oblivious market continuing to reach new all-time highs. Here are the video highlights:
History can be humbling. Jerry shares a chart of 2,000 years of economic history that reveals that once-dominant China is dramatically on the rise again (and that the U.S. is on the decline).
Powerless Puerto Rico. As the suffering people of the Commonwealth of the U.S. sit in darkness awaiting relief, Jerry reminds us of the immeasurable value of renewable energy in such difficult times. Our prayers continue…
China's coming ban on petrol and diesel cars. China has joined France and Britain in the plan to support a more eco-friendly world. With the biggest vehicle market, China has begun turning away from fossil fuels to electrically powered vehicles.
The UBS Report. In a thought experiment, UBS conducted a survey of the commodities market in a world where all gas-powered vehicles were extinct. And the winner was: Lithium, by 3000%!
4 Ways to Play Lithium. There are three major producers of lithium, the least of which has gained over 47% YTD and the greatest over 90% YTD! And the fourth is one that we track every week in The Robinson Report.
Become an Gold member (Gold Member) to See the Full Video Instantly
And get access to our LIVE coaching call videos every month with Jerry Robinson

Choose your plan:
(Get 2 months free when you pay for the whole year!)

DISCLAIMER: The services provided in the Gold member membership are intended only to provide information. Trading involves risk. Decisions to buy, sell, hold or trade in stocks, futures, securities, and other investments involve risk and are best made based on the advice of qualified financial professionals.