"Daily Investment Trends for the Savvy Investor"
(Today's chart requires no log-in access.)
+51% GAIN IN UNDER THREE MONTHS…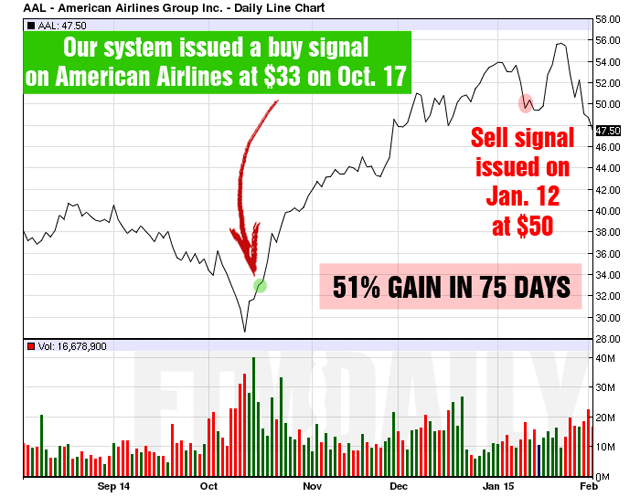 How We Made 51% in Less Than 3 Months
Here at FTMDaily, we don't have a sales team. Unlike most financial websites, we don't have an army of writers constantly trying to convince our readers to buy anything from us. Instead, we simply stick to our mission: to educate, equip, and empower people to become financially free.
One of the ways that we help people achieve financial freedom is by providing them with unique tools and resources. One such resource is our Profit Trakker trading software.
The above chart is a snapshot from our trading software. As you can see, our software issued a buy signal on American Airlines at $33 per share back on October 17. Less than three months later, our system issued a sell signal telling us it was time to lock in the gains.
All told, we made 51% in about 75 days!
Trading stocks and ETFs can be an exciting way to earn an extra income. But it's not without its risks.
If your goal is to become a better investor, and even learn to make money from the financial markets, you need a system. And after 17 years of trading experience, I am eager to share the lessons that I have learned with you.
Why not consider trying out our trading software? Sign up by this Friday (2/6/15) at midnight and get instant access to our powerful trading system for only $1 for your first month! We don't have contracts and you can cancel at anytime. (Click here to try it and use coupon code: TRADEPRO)
Don't go it alone. Wise investors and traders need solid tools to succeed in this difficult market.
Join our online trading community for only $1 right now. Act now before this special discount is gone!

Use Coupon Code: TRADEPRO
What Will I Get With Trigger Trade Pro?
– 24/7 access to our powerful trading system providing you with instant buy and sell signals on every U.S. stock and ETF!
– Two live video training calls with veteran trader Jerry Robinson each week, complete with up-to-date trading ideas, tips, education, and more! (Plus, access to the entire archive of video trainings)
– Access to our favorite trading set-ups for the next trading day, provided each evening in our Nightly Trading Report.
– Access to our popular list of top trending stocks updated daily.
– And much more!

Use Coupon Code: TRADEPRO
---
Real-Time Market Update

(Courtesy of Finviz.com)
---