by Jerry Robinson, FTMDaily.com Founder
Each evening, after the U.S. markets have closed, I personally screen the markets using my own Trigger Trade System in search of the best potential trading setups for the following day. After trading for nearly 17 years, I have learned the importance of doing your homework every day. These markets are treacherous and feast upon the weak. But, if you know how to spot stocks ready to move higher, you can make really good money from the markets.
A few years ago, I began sharing one stock trading idea from my own personal trading watchlist with our paid subscribers. Every evening, I send out my latest trading idea.
Earlier, on August 25, our subscribers received this trading idea in the exclusive members-only area of FTMDaily.com.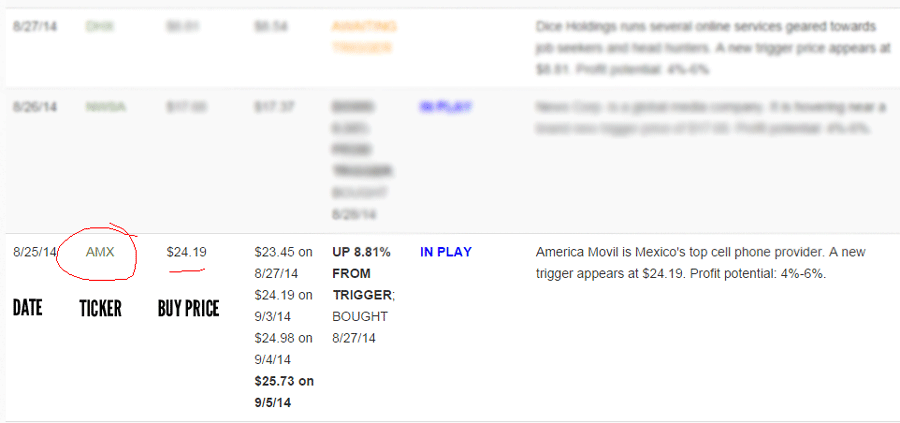 Our trading system said to buy Mexico's top telecom company, America Movil (AMX) if it crossed above $24.19. Two days later, on Aug. 27, the stock hit $24.19.
Eight days later, the stock is up 8.81%!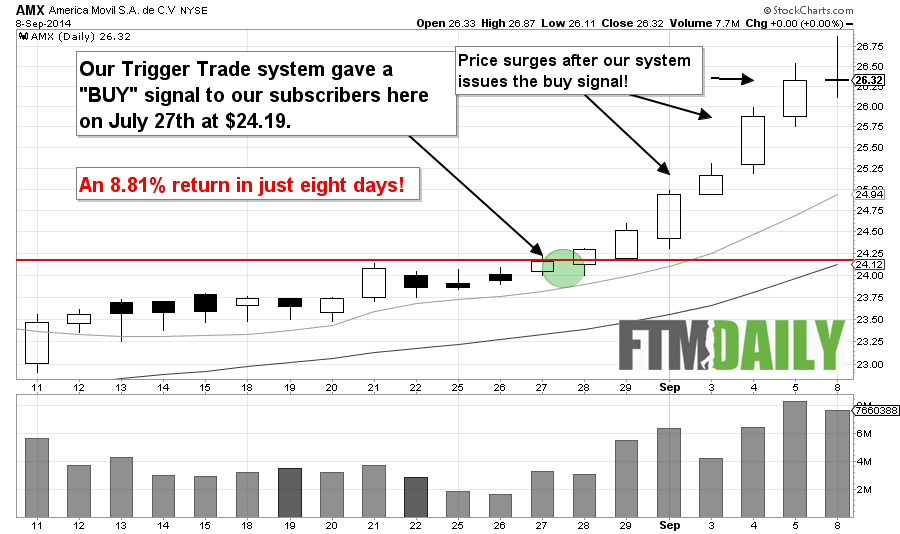 My subscribers and I are still in this stock but we have placed a stop loss order at $25.73, which means if the stock falls to that price, it will automatically sell and we will lock in our gains!
This is one of the many successful trading ideas that our subscribers receive each and every day in the exclusive members-only area of our website.
To unlock our daily trading ideas, and many other excellent trading, investing, and income ideas and strategies, simply become an FTM Insider. See all of Gold member benefits here.
"If you want to learn to trade, but want some support along the way, consider becoming a Profit Trakker subscriber."
Of course, if you would prefer to gain access to the Trigger Trade System itself, it is also available. You can learn more about the time-tested Profit Trakker trading software here. Imagine being able to log-in to FTMDaily.com and get instant buy and sell signals on virtually any stock or ETF in America! It's possible. You also will get access to two live trading webinars with me every week. Subscribers can see my computer screen during these calls and can ask any question they want, in real-time.
If you want to learn to trade, but want some support along the way, consider becoming a Profit Trakker subscriber. I'll teach you everything I have learned about trading over the last 17 years. You can learn more here.
FYI: Check out our new daily stock trading podcast below. This Stock Trading University podcast teaches you a new stock trading concept in just a minute or two each day. You can find the entire archive of episodes here.
New! Daily Trading Podcast by Jerry Robinson