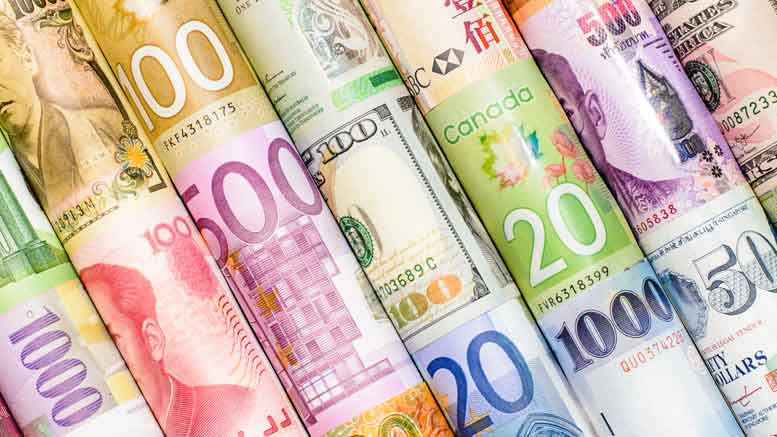 How to Buy Foreign Currency
Holding a portion of ones portfolio in relatively stable foreign currencies is an important part of diversifying away from the U.S. dollar.
It is important to distinguish "holding" currency from "trading" currency. "Holding" a currency is what you do everyday when you have a checking or savings account, a brokerage account, or a retirement account. All of these accounts are held and settled in one currency (usually the U.S. dollar if you live in the United States). But the act of "trading" currencies is much different. "Trading" currencies refers to a specific and speculative action in which you bet for, or against, one currency during a short period of time. This concept is similar to trading stocks, only in this case, the financial instrument being traded is a pair of currency futures.
This article discusses how to buy foreign currency for the purposes of "holding" currency, not for short-term "trading" of currency.
#1 Buy and Hold the Physical Currency
Buying physical foreign currency is as simple as picking up the phone and calling your local bank. Almost all larger banks have a foreign exchange department where you can trade in your home currency for another currency. The fees on this vary, so you will have to contact your bank for more details. This is usually the most expensive way to purchase foreign currency.
Bank of America Offers Foreign Currency Purchases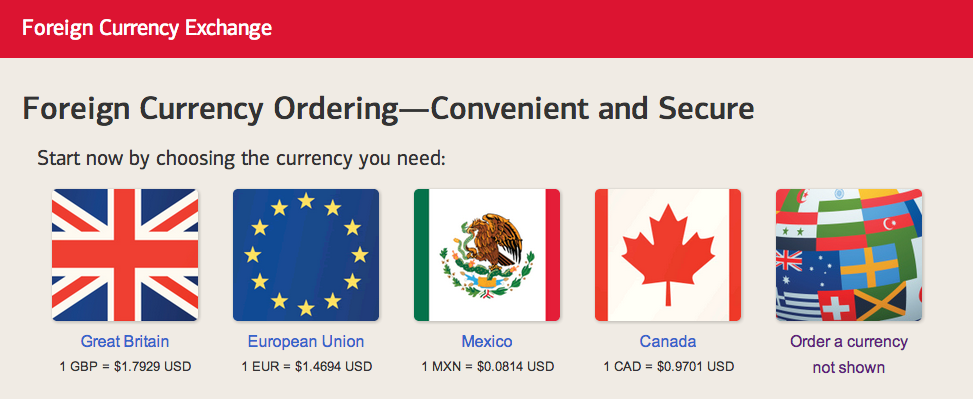 Image source: Bank of America
#2 Buy a Foreign Currency CD
Several years ago, an FDIC-insured bank called Everbank began offering their clients access to foreign currencies through the familiarity of Certificates of Deposit (CDs). The Foreign Currency CDs are unique in that your principal is FDIC-insured up to $250,000 against a bank failure. However, your principal is not insured against loss in the foreign exchange markets. Typically, you will need a minimum of $10,000 to open one of these accounts, and they are IRA eligible. I encourage you to look at Everbank's website. It has some wonderful resources for those who are thinking about diversifying into foreign currencies. You can learn more about Everbank and their foreign currency CD's here.
Everbank Offers CD's for Several Foreign Currencies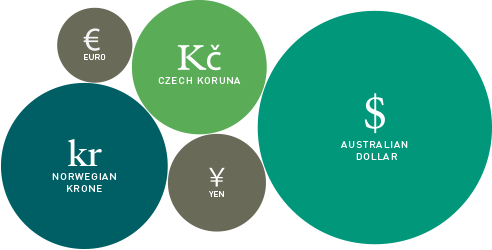 Image source: Everbank
#3 Buy Currency ETFs
You can gain direct exposure to many foreign currencies today through ETFs, which stands for exchange-traded funds (or similar ETNs, which stands for exchange-traded notes). These ETFs trade just like a stock, and you can purchase them through your brokerage account or IRA just like you would purchase a stock. Similar to mutual funds, ETFs have fees, but they tend to be much lower than mutual funds.

View Plans and Pricing
You can buy single-currency ETFs, for example, the CurrencyShares Australian Dollar Trust ETF (Ticker Symbol: FXA). You can also buy ETFs that offer exposure to a basket of foreign currencies. For example, the WisdomTree Emerging Currency Strategy (Ticker Symbol: CEW) offers exposure to select emerging market currencies. Note that many of the currency basket ETFs may carry additional risk due to low trading volume.
My favorite way to buy foreign currency is through ETFs. I have found that ETFs provide a fairly liquid and low-cost way to gain exposure to any foreign currency I want to buy. Plus, I can complete the entire transaction conveniently online from my brokerage account or IRA. Since I buy these ETFs regularly, I decided to create the Global Currency Monitor, which is a monthly PDF report on my top nine stable foreign currencies. In the monthly report, I provide a rating (buy, sell, or hold) on the euro, the Japanese yen, the Canadian dollar, and six other currencies. If you are looking to add foreign currencies to your portfolio, you can learn more about the Global Currency Monitor here.
Until next time,
Jerry Robinson
We track — and rate — nine foreign currencies every month.
Get our Monthly Currency Ratings Report here.
---
— Paid subscriber access only —
View our Plans and Pricing here
FTMDaily News Feed on Twitter
Tweets by @FTMDaily
Featured image courtesy of: Wara1982 / Shutterstock
incoming searches: where buy foreign currency, best place buy foreign currency, how to trade foreign currencies, how to buy foreign currency
Please help us spread the word about FollowtheMoney.com on Facebook, Twitter,
and any other social media outlets.
Silver & Gold
Call 800-247-2812 now for the best prices on gold and silver coins and receive Free Shipping and Insurance when you mention Follow the Money.
Weekly Newsletter
Stay in the loop!
Sign up today to receive our
weekly e-newsletter.
FollowtheMoney.com Exclusives