Today's chart is free and open to the public.

"Daily Economic/Investment Trends for the Savvy Investor"
WATCH THE $18.50 LEVEL… HERE'S WHY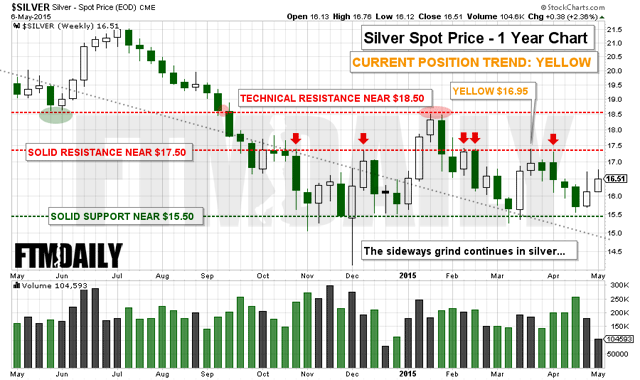 CHART: Here's All You Need to Know to Profit From Silver's Next Explosive Move
I'll admit it. I am a huge fan of silver.
I personally own silver and believe that most investors should consider it for their own portfolios.
Silver has long been known as the "poor man's gold." Unlike gold, a single ounce of silver can be purchased with a $20 bill. (In fact, at its current price of just $16.51 per ounce, you would even get some change back.)
In fact, silver is so cheap that we haven't seen prices this low since 2010.
As you can see in the above detailed chart, silver prices have recently found solid support near $15.50. If silver falls through this level on a weekly chart, then the current downtrend is likely to continue.
However, if silver prices can break out above the current resistance level of $17.50, things could really begin to improve.
But it is the $18.50 level that I am watching very closely. This is an important and historic level in silver.
As you can see in the chart below, silver found major resistance at $18.50 both in 2008 and 2009 during its heady ascent, which ended in 2011 near $50 per ounce. Investors were finally able to push silver above $18.50 in 2010. Within a few months of breaking above this key resistance level, silver was trading above $30.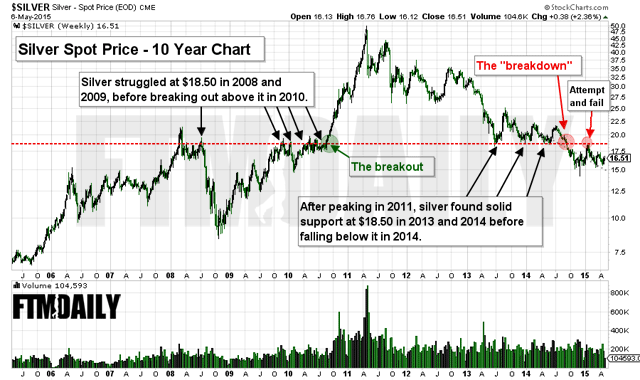 But after silver peaked out in 2011, it began its current downtrend. In both 2013 and 2014, silver found solid support at $18.50. (This is typical as former areas of resistance can often later turn into key areas of support.)

Finally, in mid-2014, silver prices became weak enough to collapse through this key support level of $18.50.
So, in summary, here's what to remember: Silver prices are currently locked in a sideways grind between $15.50 and $17.50. A weekly close below $15.50 will be bearish, while a weekly close above $17.50 would be bullish. But it is a weekly close above $18.50 that could really spark a major rally in silver prices.
You can find more of our free resources on precious metals here.
Until tomorrow,
Jerry Robinson
P.S. If you are a precious metals investor and want detailed charts on gold, silver, palladium, platinum like the ones above delivered to your inbox every week, consider joining our community here.
Get Instant Access to FTMDaily's Monthly ETF Trend Alerts!
Wise traders and investors know that U.S. stocks are not the only game in town. Each month, our FTM Insiders get access to our powerful trend analysis on 40 global ETFs.
Whether you want to invest in Europe, Asia, or Latin America, our ETF Cheat Sheet will keep you on the right side of the market, no matter which global market you want to trade.
---
— Paid subscriber access only —
View our Plans and Pricing here
---
Real-Time Market Update

(Courtesy of Finviz.com)
---