TECHNICAL EXIT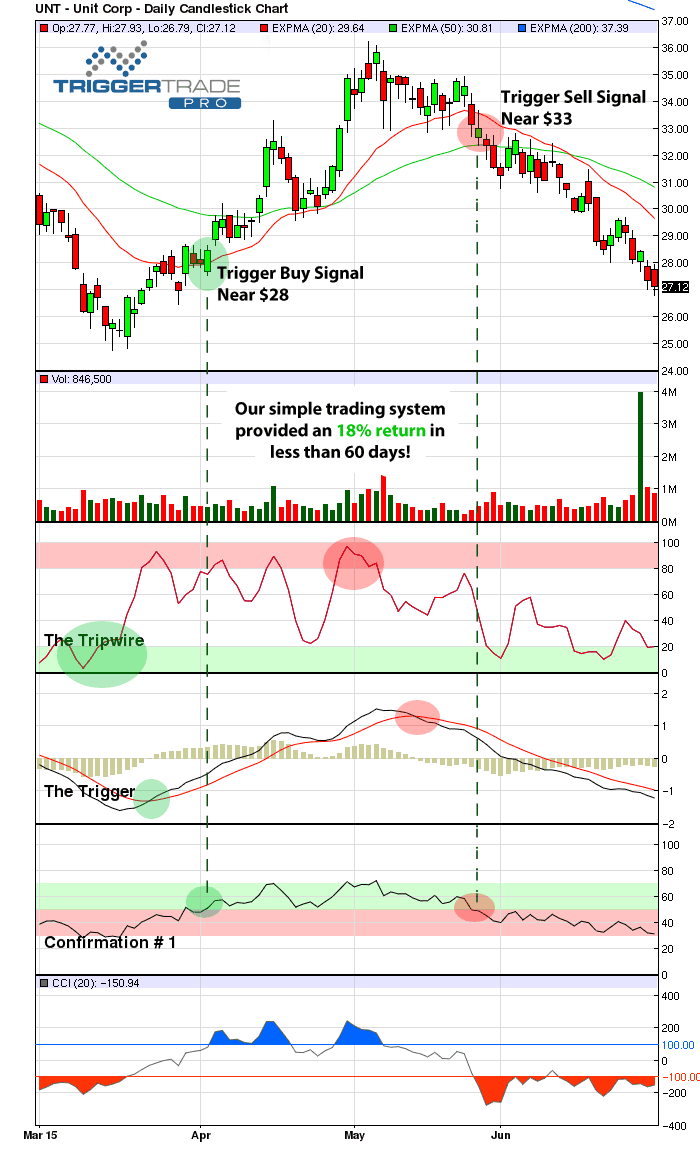 Exit Strategy #3: Exit Your Trade Based on Technical Analysis
Since we started this weekly series on trading exit strategies, we have discussed:
In this final segment of the series, we will discuss exiting a trade based on Technical Analysis. With this strategy, you only exit a trade after receiving a technical signal to do so. It is not based on profits or time. You must have patience and an iron stomach to use this exit strategy, especially if the trade is losing value.
In today's chart, you will notice the technical signal to buy shares of Unit Corp (Ticker: UNT) in April 2015, as well as the technical signal to exit the trade about seven weeks later. The technical indicators in this example are FTMDaily's own proprietary versions of technical indicators called the Tripwire, Trigger, and Confirmation (more on these in just a second).

Learn more about Jerry Robinson's Daily Trade Setups
This chart comes straight from our Trigger Trade Pro software, and is a real example of profits traders have made this year using our buy and sell signals, which are based strictly upon technical analysis.
As you can see in the chart, we exited the trade after three things happened:
The Tripwire spiked into the RED zone
The Black Trigger line crossed below the Red line
The Confirmation #1 dipped into the RED zone
Once these three events happened, we sold our shares of UNT for a handsome 18% profit in less than 60 days.
While I personally use a technical exit strategy much of the time, in reality, it is best to combine it with a target profit or max loss exit strategy. No one trades with a blind eye to profits and losses (except a trading robot designed in such a way), so don't design your exit strategy without profits and losses as a part of the overall formula.
Until next time,
Jerry Robinson
P.S. This is just one of the many topics I discuss in our Stock Trading University Podcast. It's free and has 80 episodes available. Listen now.
Stock Trading University Podcast
---
— Paid subscriber access only —
View our Plans and Pricing here
FTMDaily News Feed on Twitter
Tweets by @FTMDaily
Featured image courtesy of: kiepauto / Shutterstock