EURO QE IS HERE…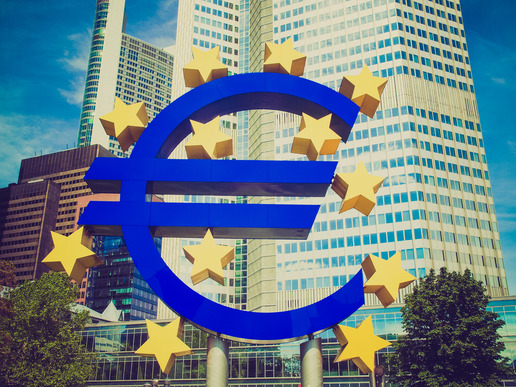 FTMDaily.com – For the last several months, the Eurozone has been facing rising deflationary pressures, stagnant economic growth, and growing concerns over the conflict in neighboring Ukraine. Until now, European policymakers have produced a patchwork of fiscal policies, most of which are failing to salvage the Eurozone's weak "recovery." In addition, the European Central Bank (ECB) has been aggressively cutting interest rates.
Still, nothing seems to be working.
Now, the ECB is getting even more aggressive in its battle to spark a new rally in financial asset prices across Europe.
This morning, the ECB, under the direction of Mario Draghi, has unveiled three more rate cuts and a new economic stimulus program that will buy private-sector bonds (READ: "money-printing campaign").
The main refinancing rate has been cut to 0.05% from 0.15%. (This is a new record low and means that European banks can borrow money from the ECB at even cheaper rates, which the ECB hopes will lead to more lending and growth.)
The marginal lending facility rate has been cut to 0.3% from 0.4%…
Additionally, the deposit facility rate has been slashed to -0.2% from -0.1%. (The ECB hopes that the negative deposit rate, which is the rate European banks pay to keep money at the ECB, will force banks to lend money, or else pay even higher "storage costs" on their money stockpiles. )
While the ECB has suggested that this latest rate cut is as low as they will go (Mr. Draghi: "We are at the lower bound"), the central bank already appears willing to increase the potency of the new stimulus program. According to Mr. Draghi: "The governing council is unanimous in its commitment to using additional unconventional instruments."
The details on the new ECB stimulus are still forthcoming… However, investors are already beginning to pile into European stocks.
You can read Mr. Draghi's entire speech here.