Rated: NR (Not Rated)
Studio: Paul Grignon
Year: 2006
Run Time: 47 minutes
Buy Now
Get
Jerry
Robinson's
Best
Selling Book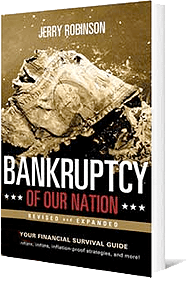 Purchase Today
Please help us spread the word about FollowtheMoney.com on Facebook, Twitter,
and any other social media outlets.
Silver & Gold
Call 800-247-2812 now for the best prices on gold and silver coins and receive Free Shipping and Insurance when you mention Follow the Money.
Weekly Newsletter
Sign up today to receive The Robinson Report (Lite Edition) for free each weekend.
FollowtheMoney.com Exclusives