Get Free Access to Today's Trading Idea
Today's Chart of the Day is also our Trading Idea of the Day. Each evening our FTM Insiders and Profit Trakker subscribers receive a trading idea complete with: 1. Trigger price (The price at which we will buy the stock) 2. Stop loss price (Our exit price) 3. My comments (I usually provide some basic technical guidance on the stock's current price pattern) 4. Profit potential (That's how much I plan to make if the trade goes my way)
We have booked some solid gains over the last several months.
On 12/15 we bought shares of QLogic Corporation (Ticker: QLGC) at $12.01. I had noticed that the price pattern of the stock had been locked in a month-long period of sideways movement. (This is also known as "consolidation.") I told our subscribers that the stock appeared ready to breakout and rally higher if it could break through the $12 resistance level.
15 days later, we sold those same shares for $13.31 for a quick 10.8% gain.
On 11/25, we added shares of Amedisys, Inc. (Ticker: AMED)
I had noticed that the stock's chart was forming an interesting 30-day "saucer" pattern. And best of all, it was occuring on rising volume levels (which is almost always a good sign!) I told our subscribers that I planned to buy the stock if it could reach its "trigger" price of $26.31.
Five weeks later, we sold all of our shares at $29.47, locking in a sweet 12% gain.
Also in November, we bought and sold a small cancer drug company, Progenics Pharma, Inc. (Ticker: PGNX) for a 35% gain. Best of all, we only held the stock for a week!
Today, I am sharing our exclusive trade of day with you absolutely free. Simply register for a free FTM Starter account and you will instantly unlock access to today's trading idea along with several exclusive members-only videos and Special Reports in PDF format. Your FTM Starter account is 100% free and is the perfect way to discover more about many of our powerful investing tools and income creation resources.
So what are you waiting for? Get free log-in access to FTMDaily right now and unlock even more trading and investing insights! Complete the brief form at the bottom of this page and get today's trading idea and much more. (This is a free service and you can unsubscribe at anytime. We have a zero-spam policy.)
VIDEO: What is the Gold member Service?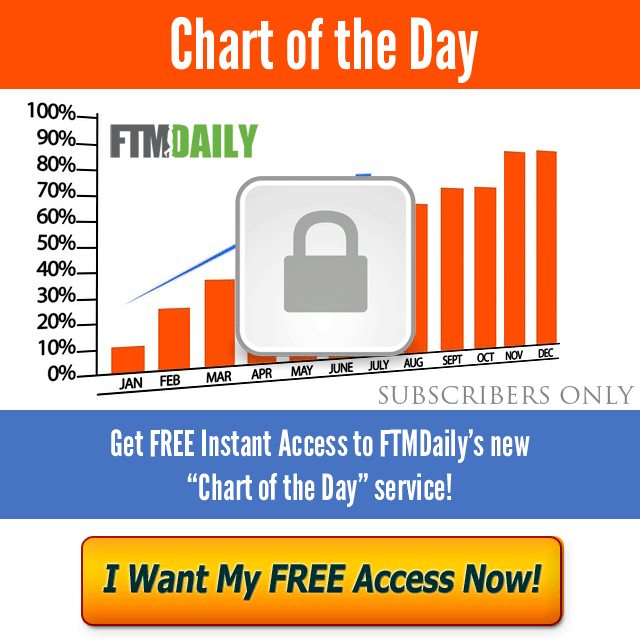 Create Your Free Account and Get Instant Login Access to FTMDaily.com!
Do not fill out this form if you are a paid subscriber. You already have access to this content.
Login now
See a sample "Chart of the Day"
Already a subscriber? No need to fill out this form. Simply log in here.