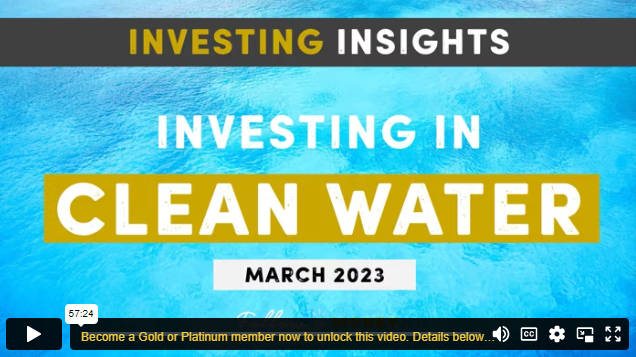 (Recorded on 03/28/23)
Topics covered on this video coaching call
In this special video presentation, trading coach Jerry Robinson discusses the global water crisis and shares ways that socially-conscious investors can help support sustainable water management practices while benefiting from the growing demand for water-related technologies and services. Jerry also highlights seven publicly-traded companies that are actively addressing water scarcity and pollution.
Included in this video:
– Exciting news for renewables
– The global water crisis
– Encouraging developments
– Clean Water Demand 101
– Clean Water Solutions 101
– Top 7 Water Stocks ranked by Smartscore
– One more stock + Caveats
– And much more!
Enjoy live group coaching calls with Jerry Robinson every Tuesday morning when you become a member of our global investing/trading community
Our premium investing and trading tools along with our proprietary market research are used by both professional and individual investors and traders
Jerry's weekly coaching calls include actionable ideas on stocks, ETFs, cryptos, real estate, commodities, and more!

DISCLAIMER: The services provided in our memberships are intended only to provide education and information. Trading and investing involves risk. Decisions to buy, sell, hold or trade in stocks, futures, securities, and other investments involve risk and are best made based on the advice of qualified financial professionals.