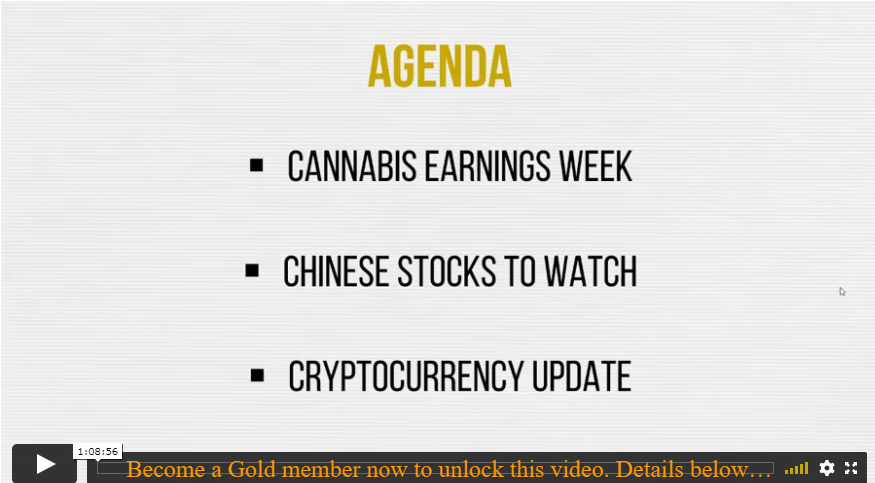 (Recorded on 08/10/21)
Topics covered on this video coaching call
In this special video training, trading coach Jerry Robinson covers many topics including this week's big cannabis earnings reports, five Chinese stocks to watch, and an important cryptocurrency investing update.
Included in this video:
– Join Jerry on the Money Show Virtual Expo streaming live August 10-12, 2021
– New Long-Term Portfolio Buy Alert (This blockchain penny stock has promise)
– This Week: Q2 Cannabis Earnings (Here are the stocks we own and what we are watching for in this week's earnings reports)
– Five Chinese Stocks/ETFs to watch (Is it time to start bottom fishing in oversold Chinese stocks?)
– Cryptocurrency Update (A broad update on several cryptocurrencies in our long-term investment portfolio)
– A wise approach to crypto investing
– And much more!
Enjoy live group coaching with Jerry Robinson when you join our global investing/trading community
Our premium investing and trading tools and research are used by both professional and individual investors and traders
View plans/pricing


DISCLAIMER: The services provided in our memberships are intended only to provide education and information. Trading and investing involves risk. Decisions to buy, sell, hold or trade in stocks, futures, securities, and other investments involve risk and are best made based on the advice of qualified financial professionals.