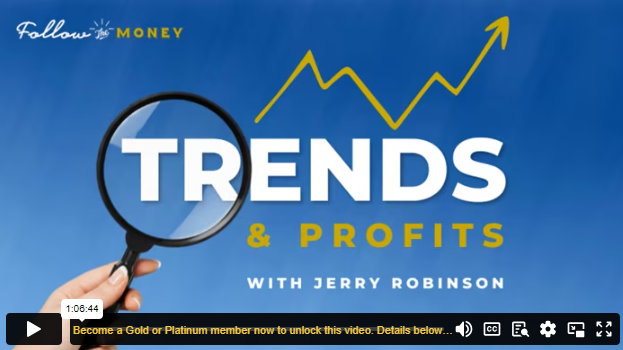 (Recorded on 09/19/23)
Topics covered on this video coaching call
In this live webcast, trading coach Jerry Robinson discusses the $33 trillion U.S. national debt, surging crude oil prices, the epic U.S. dollar rally, and much more. Later, he provides an update on current market trends and concludes with member Q&A.
Included in this video:
– U.S. National Debt Hits $33 Trillion
– Charting crude oil prices
– What's up with the U.S. Dollar?
– Big Fed Meeting this week
– Potentially Huge News for Cannabis Industry
– Charting the major markets
– Four short-term trading ideas + stocks on our radar
– And much more!
Follow Profitable Trends Every Tuesday with Jerry Robinson
Introducing "Trends & Profits" – the ultimate live weekly webcast hosted by popular trend trading coach, Jerry Robinson. Join us for an exciting and informative journey into the world of investing and trading, where you'll gain valuable insights, get trend alerts, actionable ideas, and have the opportunity to get your questions answered during our member Q&A segment.
Get Vital Insights To Empower Your Trading and Investing
Each episode of "Trends & Profits" is thoughtfully crafted to deliver four segments that will empower you to make smarter investment decisions:
News Brief: Stay up-to-date with the latest market news and developments that could impact your investment strategies. Jerry will analyze current events, economic data, and geopolitical trends to help you navigate the ever-changing market landscape.
Trend Alerts: Get ahead of the curve with our trend alerts. Jerry will share his expert analysis of market trends, identifying key opportunities and potential pitfalls. Discover emerging trends and unlock potential profits with our trend alerts segment.
Actionable Investing/Trading Ideas: Ready to take action? In this segment, Jerry will present actionable ideas and strategies designed to capitalize on market trends. From stock picks to ETF trading strategies, you'll receive practical guidance to help you achieve your financial goals.
Member Q&A: Your questions matter. We believe in the power of community and fostering a supportive learning environment. During our member Q&A segment, Jerry will address your specific queries, provide insights, and offer general advice to help you overcome any hurdles you may face in your investing or trading journey.
Don't miss out on this exclusive opportunity to join "Trends & Profits" and gain access to Jerry Robinson's wealth of knowledge and expertise. Our live webcast is designed to equip you with the tools and insights needed to thrive in the markets. Join our community of like-minded individuals and take your investing and trading to new heights!
Join now and secure your spot for the next episode of "Trends & Profits." Your financial success awaits!