Thank you for your interest in our free Study Guide for Jerry Robinson's latest book: Bankruptcy of our Nation.
We have been getting letters, emails, and phone calls from all over America telling us how the history, concepts, and practical financial strategies contained within Bankruptcy of our Nation have changed their lives.
To receive the free Study Guide for Bankruptcy of our Nation, please simply enter your first and last name and your best email. After confirming your contact information, you will be emailed the Study Guide in PDF format.
Download the Free Study Guide Instantly!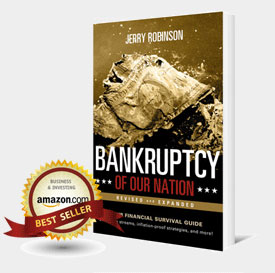 Note: Once you submit your information using the above form, you will be have full permission to use, photocopy, and distribute this Study Guide free of charge.