[private]
Penny Stock Friday Report
September 14, 2012
Welcome to our very first edition of The Penny Stock Friday Report. Every Friday, economist and trend trader, Jerry Robinson, personally scans the financial markets looking for low-priced companies that are poised to move higher in the coming days or weeks. To learn more about Jerry's stock selection methodology, click here.
The Penny Stock Friday newsletter is issued by email to paid subscribers every Friday evening at 7:00pm.
This week, Jerry has identified two penny stocks that meet his strict criteria for his own trading purposes. We present these stocks for your consideration.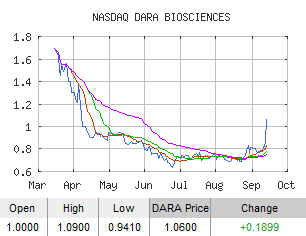 PENNY STOCK #1 – (Nasdaq: DARA)

Company: Dara Biosciences, Inc.
Ticker Symbol: DARA
Last Price: $1.06
Exchange: Nasdaq
Sector: Healthcare
Industry: Biotechnology
Website URL: Link
Company Profile: DARA BioSciences, Inc., a development stage biopharmaceutical company, engages in the development and commercialization of oncology treatment and supportive care pharmaceutical products in the United Sates. Its products include Soltamox for the treatment of breast cancer; Gemcitabine for first-line therapy for ovarian, breast, lung and pancreatic cancers; and other cancer support therapeutics, as well as generic sterile injectable cytotoxic products. Its drug development programs include KRN5500, a non-narcotic/non-opioid that has completed Phase IIa clinical trial for the treatment of neuropathic pain in cancer patients; and DB959, which has completed a Phase I study for the treatment of metabolic diseases, including type 2 diabetes and dyslipidemia. The company's pre-clinical drug candidate includes DB900 PPAR gamma/alpha/delta agonists for development in metabolic and inflammatory diseases; DB160, DPPIV enzyme inhibitors with applications in diabetes, stem cell transplantation, and cancer therapy; and DB200, Carnitine palmitoyltransferase-1 for skin diseases, including psoriasis. DARA BioSciences, Inc. was incorporated in 2002 and is headquartered in Raleigh, North Carolina.
Jerry's Analysis: DARA recently signed an exclusive contract with The Helsinn Group of Switzerland for the domestic commercial rights to Gelclair. Gelclair is an FDA-approved topical medicated gel that is used to reduce pain from oral mucositis. DARA had a huge week. However, I believe that large gains still await those who are patient. DARA is closing in on its 200 day moving average, which is currently around $1.12. If it clears that hurdle on strong volume, it could continue moving higher until it reaches its next significant resistance level at around $1.40.
Jerry's Action: I will buying this stock on Monday up to $1.15.
[/private]