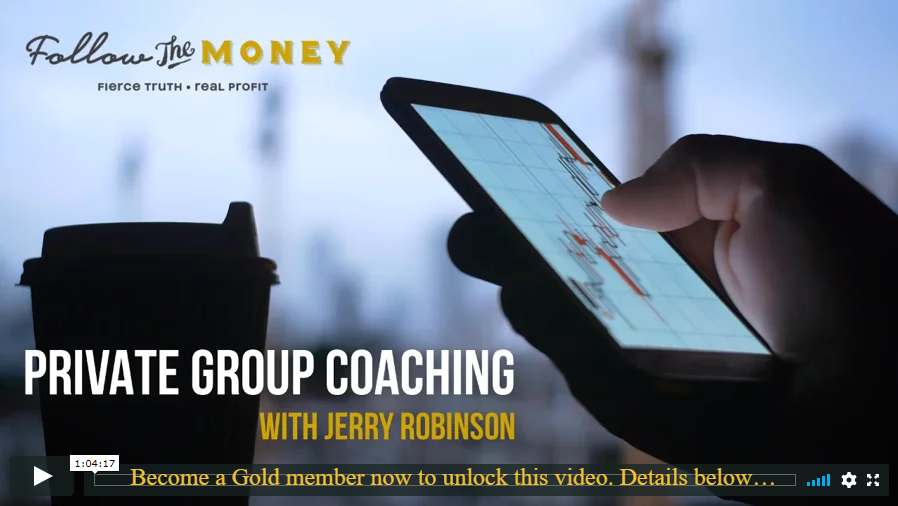 Topics covered on this video coaching call
On today's call, trading coach Jerry Robinson reviews the latest issue of The Robinson Report and, later, he introduces a unique long-term moving average strategy for interpreting the current bull market and the next market reversal.
The moving average strategy described on today's call uses three moving averages on a monthly stock chart. A similar combination of moving averages can also be added to the weekly chart. The purpose of using moving averages on longer-term charts is to help identify potential tops and bottoms in existing markets by smoothing out the price action and eliminating the noise that is generated on daily and intraday stock charts.
Today's one-hour coaching video, led by long-time position/swing trader Jerry Robinson, introduces this new moving average strategy. On next week's call, we will dive deeper into this unique moving average strategy and Jerry will explain how he personally uses it to spot potential market reversals, especially on long-term trends.
To unlock access to this exclusive one-hour trading video — as well as our vast trading video archive (containing hundreds of hours of training videos to help you become a better swing trader or position trader) — join the Followthemoney.com online trading community here. (Note: Access to this coaching video – and the full archive – requires a Gold or Platinum membership.)
If you want to improve your trading, you need a coach. FollowtheMoney.com has coached and mentored thousands of traders and investors over the past decade. Your trading coach, Jerry Robinson, is the founder of Followthemoney.com and has been trading stocks, ETFs and options for more than two decades. He has the heart of a teacher and wants his students to succeed in swing trading and position trading.
These members-only coaching videos are designed to help you become a better trader through chart reading, Fed-watching, and a healthy dose of trading wisdom. Led by trading coach, Jerry Robinson.
Join us today and prepare for trading success!

DISCLAIMER: Trade at your own risk. The services provided in the Gold and Platinum Memberships are intended only to provide education and information. Trading involves risk. Decisions to buy, sell, hold or trade in stocks, futures, securities, and other investments involve risk and are best made based on the advice of qualified financial professionals.