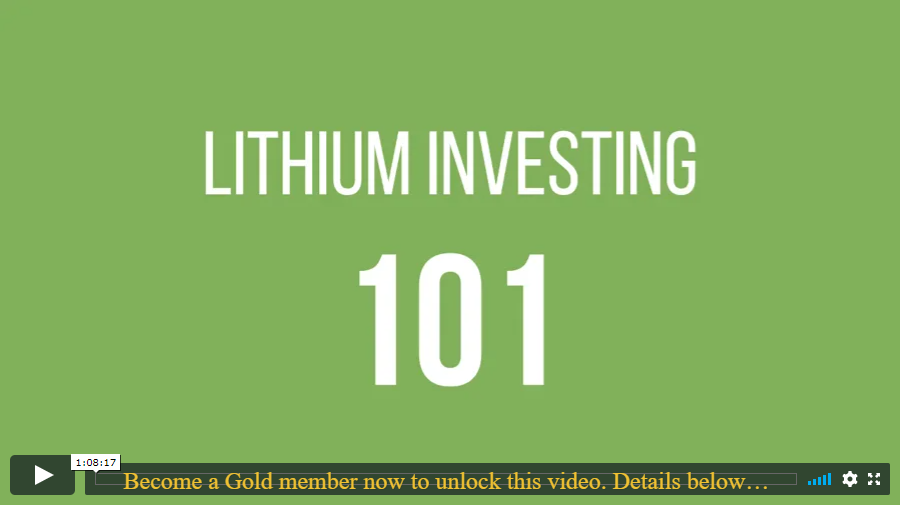 Topics covered on this video coaching call
On today's call, trading coach Jerry Robinson provides an overview of the lithium industry and shares several lithium stocks poised to rally amid growing demand. Later, Jerry shares his 5-year price target for Bitcoin — and more importantly, the math behind it.
Table of Contents:
00:10 – Introduction/Important Disclaimer
00:54 – Today's agenda
02:40 – Q4 2020 update for Sector Rotation ETF Strategy
05:41 – October updates for Dividend Aristocrats and the Rising Star Watchlist
10:45 – A brief review of the latest issue of The Robinson Report
20:27 – Charting Bitcoin's boom/bust cycles
25:57 – Our "buy" zone for Bitcoin
30:04 – The math behind our price forecast for Bitcoin by 2025
37:30 – Lithium Investing 101 – What is lithium and how is it used?
41:41 – Lithium's rapidly growing demand
44:48– Lithium stocks to watch according to our Smartscore rankings
50:38 – A caveat about lithium…
51:24 – A solid research tool for sector and industry investors/traders
56:40 – When, where, and how we buy Bitcoin
59:33 – Q&A
Are you ready to learn how to trade and invest in stocks, ETFs, cryptocurrencies, or commodities? Become a Gold or Platinum Member now and instantly unlock this private group coaching session!
When you become a member, you will get access to our LIVE Private Group Coaching calls with Jerry Robinson


DISCLAIMER: The services provided in our memberships are intended only to provide education and information. Trading involves risk. Decisions to buy, sell, hold or trade in stocks, futures, securities, and other investments involve risk and are best made based on the advice of qualified financial professionals.