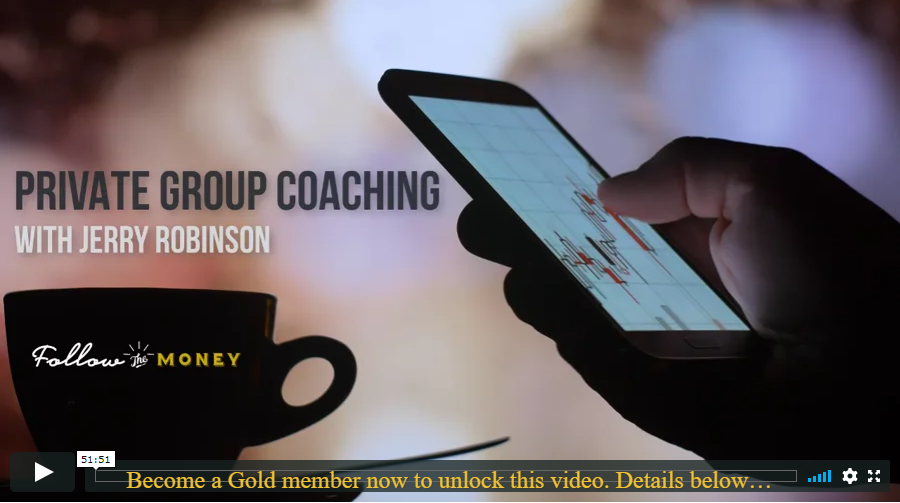 Topics covered on this video coaching call
On today's call, trading coach Jerry Robinson examines several charts and later, he provides a simple introduction to the 11 stock market sectors and 69 industries.
Table of Contents:
00:11 – Introduction/Important Disclaimer
01:12 – Today's agenda
02:56 – Alert: I added more of this investment on Friday
06:49 – Our asset allocation for precious metals in our portfolio
11:01 – Alert: I added more of this cryptocurrency on Friday
13:35 – The inverse relationship between the U.S. dollar and asset prices
19:59 – Tonight's Presidential debate is likely to move the markets
22:26 – Gold has pulled back to this important moving average
23:36 – Brief commentary/review of the latest Robinson Report
30:23 – Solar energy is on the move
34:23 – This Chinese stock has remained #1 in our Smartscore Rankings for quite some time
35:28 – Bitcoin has been respecting this significant moving average
36:40 – Sectors + Industries 101
39:23 – The 11 sectors of the stock market
51:06 – ALL stocks are found within one of 11 sectors and 69 industries
Become a Gold or Platinum Member now and instantly unlock this private group coaching session!
When you become a member, you will get access to our LIVE Private Group Coaching calls with Jerry Robinson


DISCLAIMER: The services provided in our memberships are intended only to provide education and information. Trading involves risk. Decisions to buy, sell, hold or trade in stocks, futures, securities, and other investments involve risk and are best made based on the advice of qualified financial professionals.