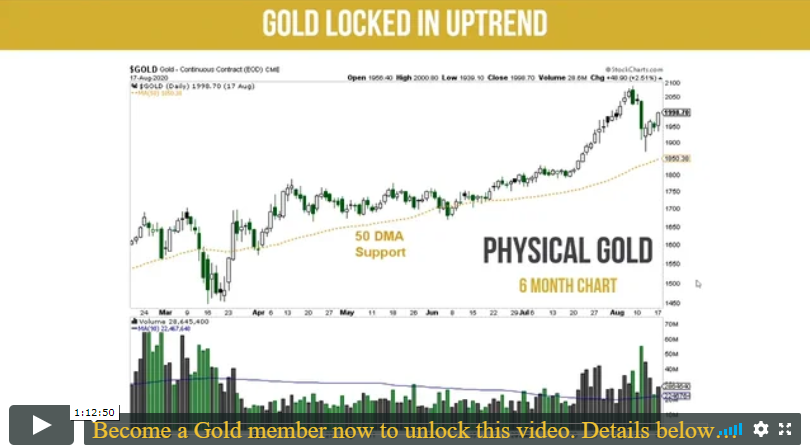 Topics covered on this video coaching call
On today's call, trading coach Jerry Robinson discusses the new long-term uptrend in the S&P 500 index and what it means for investors and traders. Later, an important update on cryptocurrencies.
Table of Contents:
00:10 – Introduction/Important Disclaimer
01:24 – S&P 500 confirms a new Long-Term uptrend
04:26 – The price of lumber sees a huge spike as building costs surge in coronavirus economy
08:27 – Should we expect a post-election rally in 2020?
17:00 – Warren Buffet was a net seller of U.S. stocks in Q2 and a buyer of a gold stock
28:14 – The U.S. dollar index has lost a key support level
30:12 – Physical gold/physical silver prices continue rising
35:15 – Q&A
38:26 – Brief review of the latest issue of The Robinson Report
40:20 – The new uptrend in this commodity may have some legs
45:18 – Cryptocurrency update begins
47:33 – Jerry's philosophy on Bitcoin, Ethereum
47:58 – Bold move: The world's largest publicly traded business intelligence firm dumps the U.S. dollar for Bitcoin
54:50 – Chainlink is up 800% since our January buy alert and has climbed to #5 in cryptocurrency market capitalization
1:08:55 – Update on cannabis stocks plus an potentially positive development in the legal arena
Become a Gold or Platinum Member now and instantly unlock this private group coaching session!
When you become a member, you will get access to our LIVE Private Group Coaching calls with Jerry Robinson


DISCLAIMER: The services provided in our memberships are intended only to provide education and information. Trading involves risk. Decisions to buy, sell, hold or trade in stocks, futures, securities, and other investments involve risk and are best made based on the advice of qualified financial professionals.