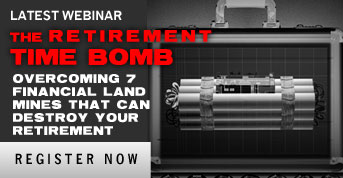 LIVE WEBCAST: JUNE 24 @ 8:00PM CST
THE RETIREMENT TIMEBOMB
Overcoming 7 Financial Landmines That Can Destroy Your Retirement
Sign up now for our upcoming webinar scheduled for June 24 @ 8:00pm (CST).
Register now for our free webcast, and you will learn:
– An overview of the ideal financial plan as we head into the future.
– A Biblical worldview on the future of investing.
– An unusual prediction on where the financial markets may be heading based upon Bible prophecy.
– How to set financial goals in difficult economic times like these.
– The 7 financial landmines that you must be aware of if you want to have a successful retirement.