Fears Mount on Global Economic 'Death Spiral'; S&P 500 Fails at $1909, Now $1867 Support; Gold, Silver Flash New Position Uptrends As USD Deflates
Good evening!
One of the most popular financial stories being passed around the web last week involved a report released by Citi analysts warning that the global economy seemed trapped in a "death spiral." It seems more Wall Street insiders are beginning to see the writing on the wall.
Investor response to the end of overt easy money policies by the Fed and a weakening global economy has been to pull money from U.S. equities in favor of traditional hedges, such as cash, bonds, and a lesser extent precious metals.
As most of you know, I am fully convinced that the next major stock market collapse will eclipse the size and scope of the 2008 financial crisis. The Fed also knows that another major market downturn looms and will likely seek to pre-empt it with a negative interest rate campaign, per former Fed Chief Ben Bernanke.
Last week, the Fed advanced in adopting a more dovish posture towards the U.S. economy, which I believe could translate into an radical shift in announced FOMC policy strategy in the months ahead.
During a speech before the Council on Foreign Relations last week, Fed VP Stanley Fischer greased the skids for the Fed's shifting policy by highlighting the effectiveness of present negative interest rate campaigns employed by central banks around the world.
Investor expectations of an interest rate hike are declining rapidly in the forex market, as seen in last week's massive selloff of the U.S. Dollar.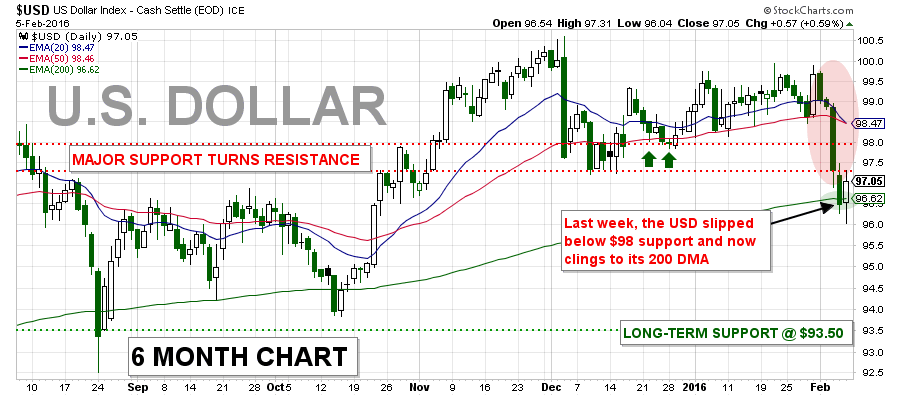 Poor economic data plus a increasingly dovish tone from the Fed are a bad combination for the USD. When I trade the U.S. Dollar, I typically purchases options on the Powershares Dollar Index ETF (Ticker: UUP).
The sharp selloff in the U.S. Dollar led to new Position uptrend alert on Gold...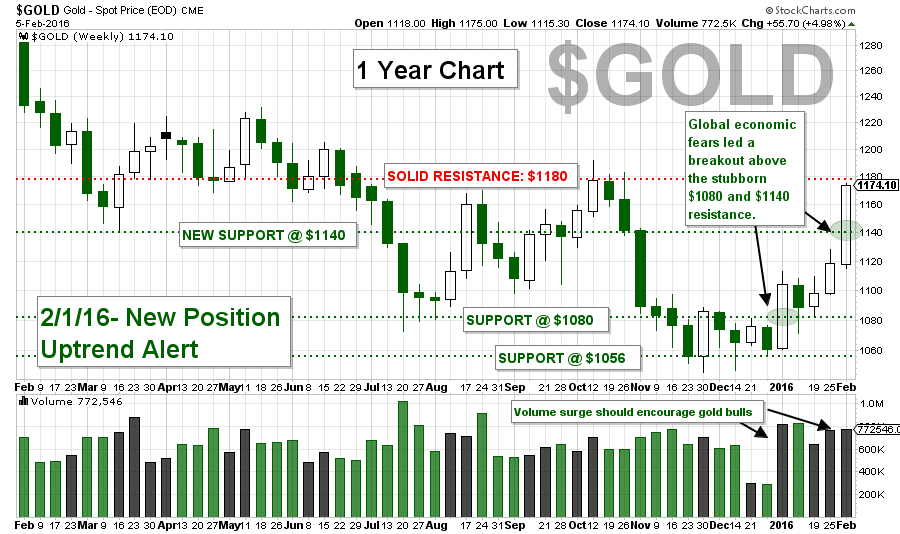 Last week, the SPDR Gold ETF (Ticker: GLD) just enjoyed its best weekly advance since July 2013.  Are we on the cusp of a major short squeeze as buyers flood into gold in early 2016? We believe so and are trading accordingly. I bought shares of GDX last week at $16.15.
And it wasn't just gold that formed a new Position uptrend last week
So did Gold Mining stocks...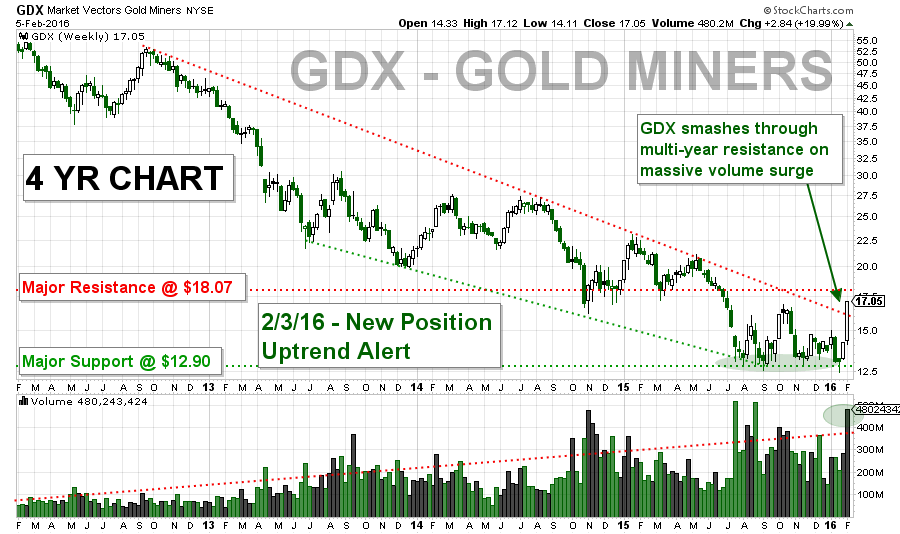 as well as Silver...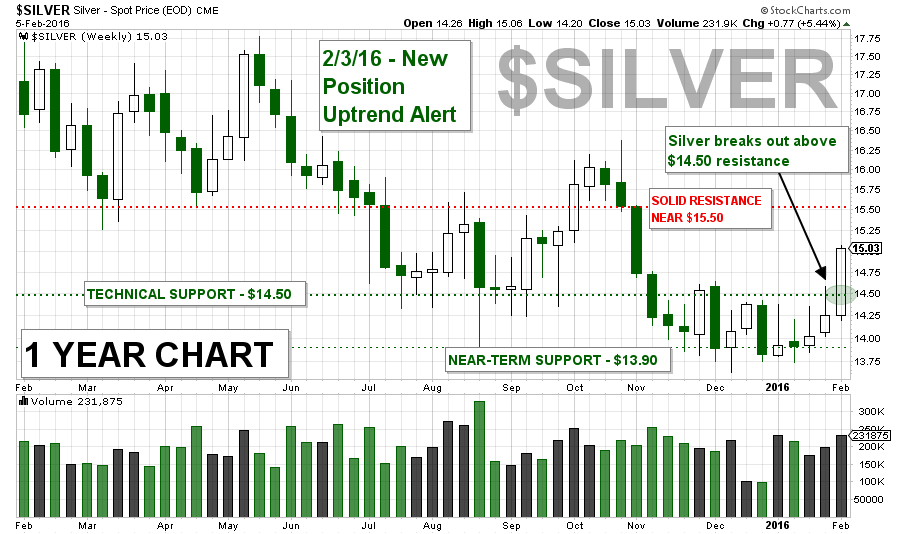 and Silver Mining...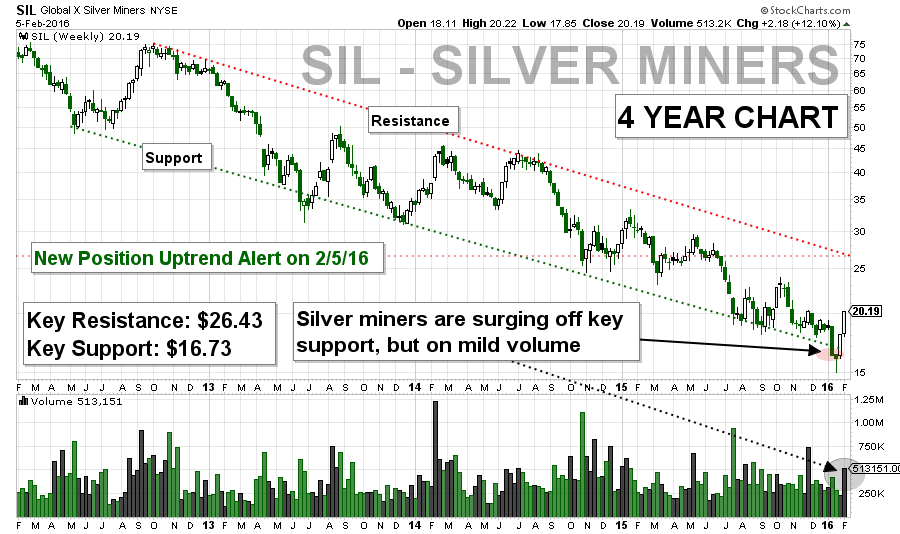 Despite all of the good news for precious metals, U.S. stocks suffered through the week as the S&P 500 was unable to hold its key $1909 support level and now hovers above its most important near-term support level of $1867.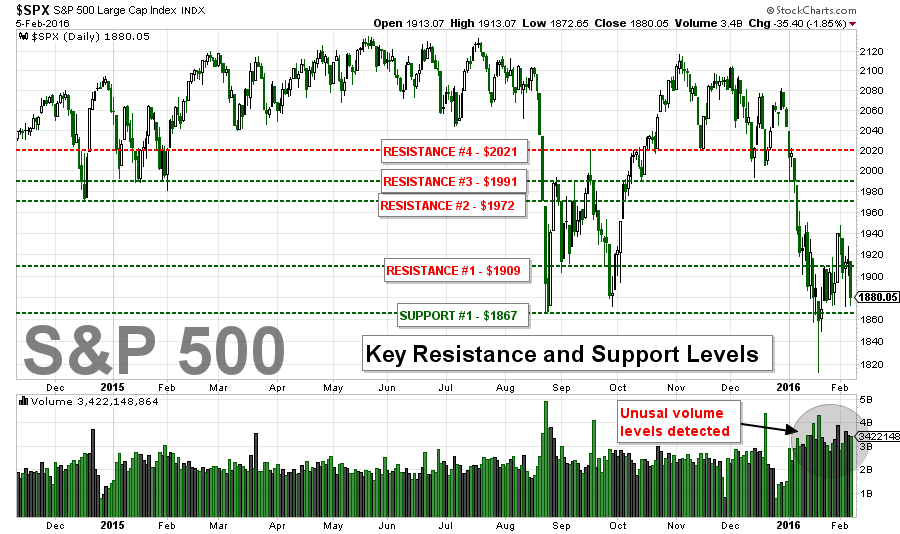 Enjoy the briefing!

P.S. Over the weekend, Iran confirmed that it would remain a Petroeuro state by demanding payment for its new and outstanding oil sales in Euros (not U.S. Dollars) . If you don't know why that is significant, drop everything and read this four-part series on how the current global dollars-for-oil arrangement imperils America's fragile economy.
S&P 500 Index - Trend Analysis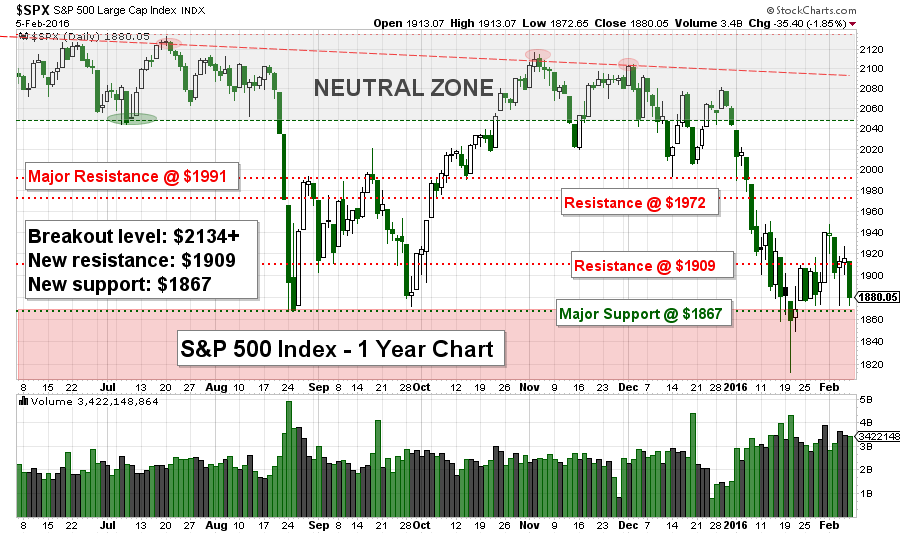 NOTE: 2016 has seen the S&P 500 rangebound between $1867 support and $1940 resistance. More volatility appears likely this week. Below $1867, I will employ put options and inverse ETFs.
Major Support Level To Watch This Week: $1867
Gold Mining Flashes New Position Uptrend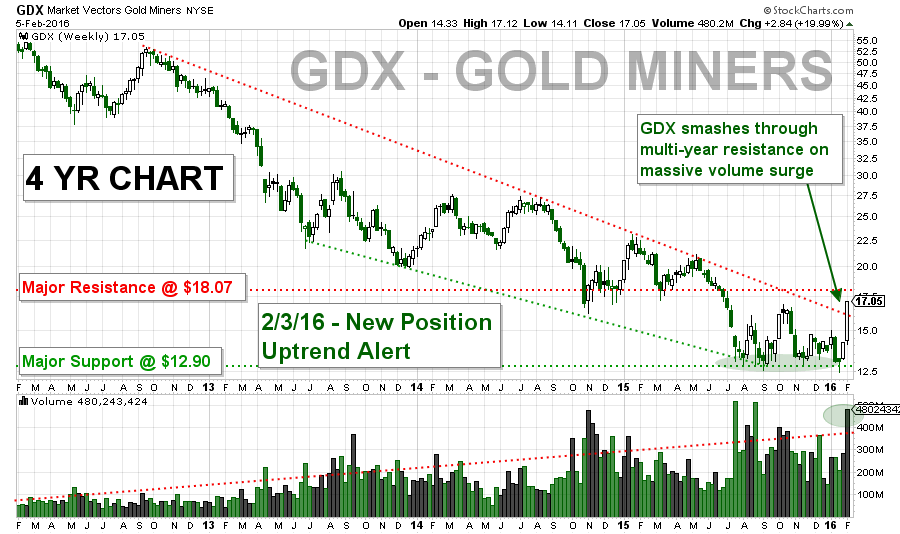 NOTE: As the U.S. Dollar fell sharply last week, gold and silver were two of the primary beneficiaries. Our preferred gold mining ETF (Ticker: GDX) flashed a new Position Uptrend. We entered GDX last week at $16.15 and will continue to hold as long as the trend demonstrates momentum.
Commodity/Currency - Trend Analysis
(Click a chart to enlarge)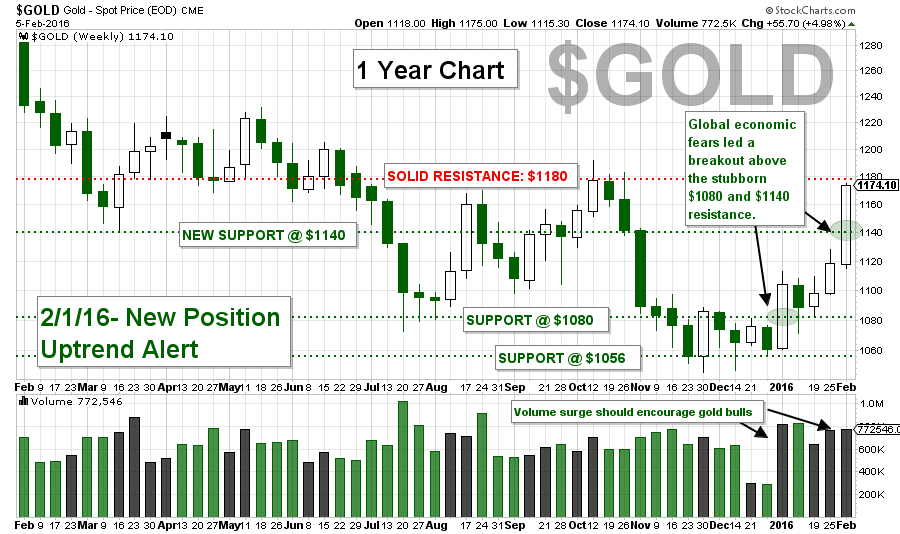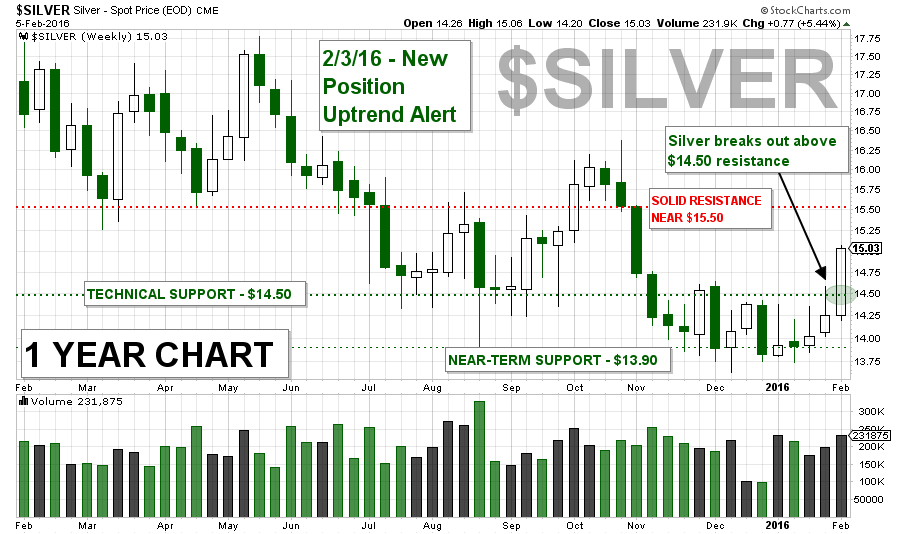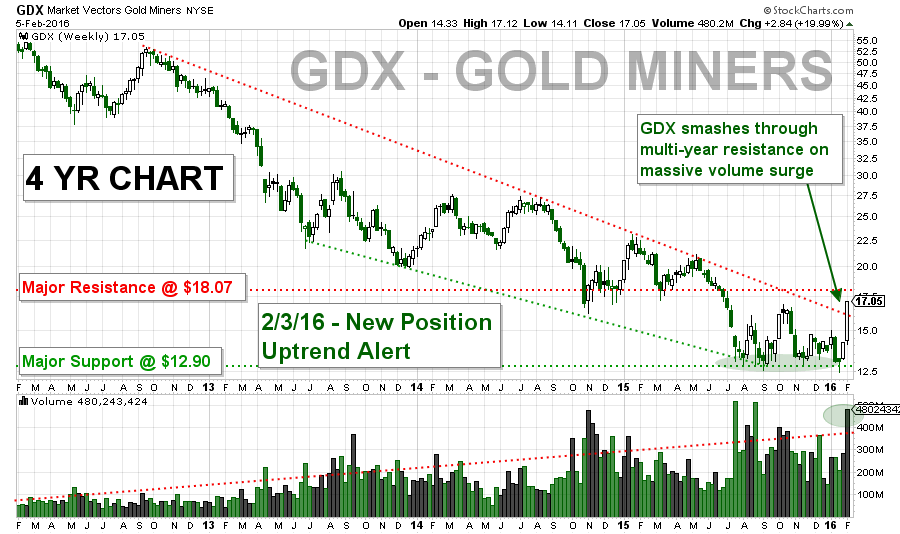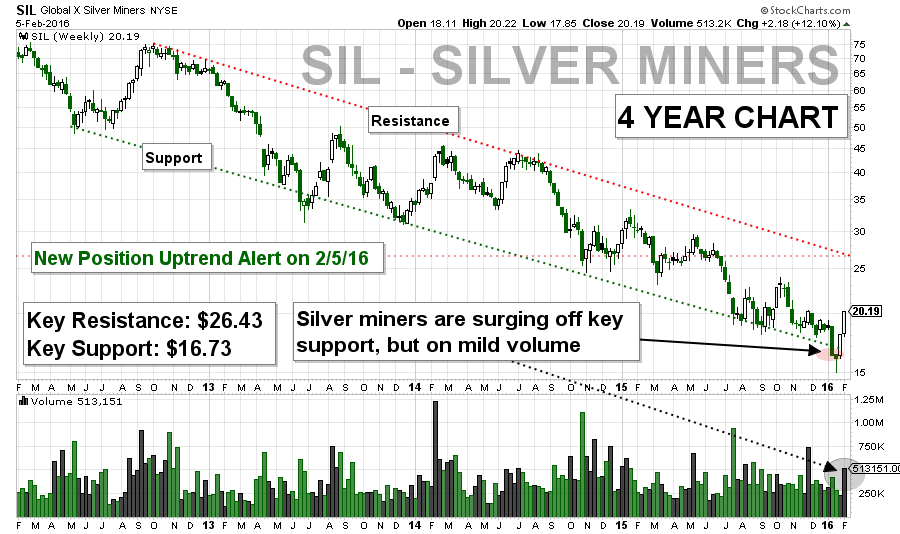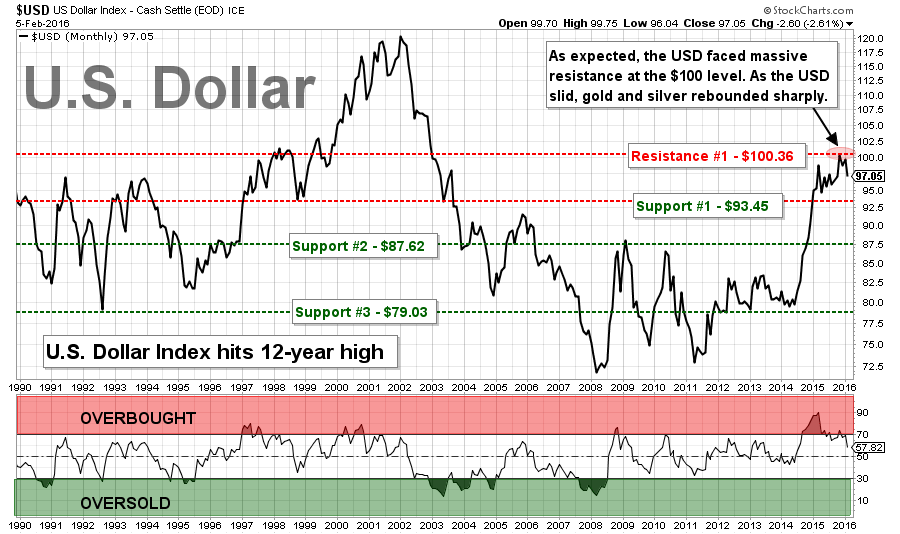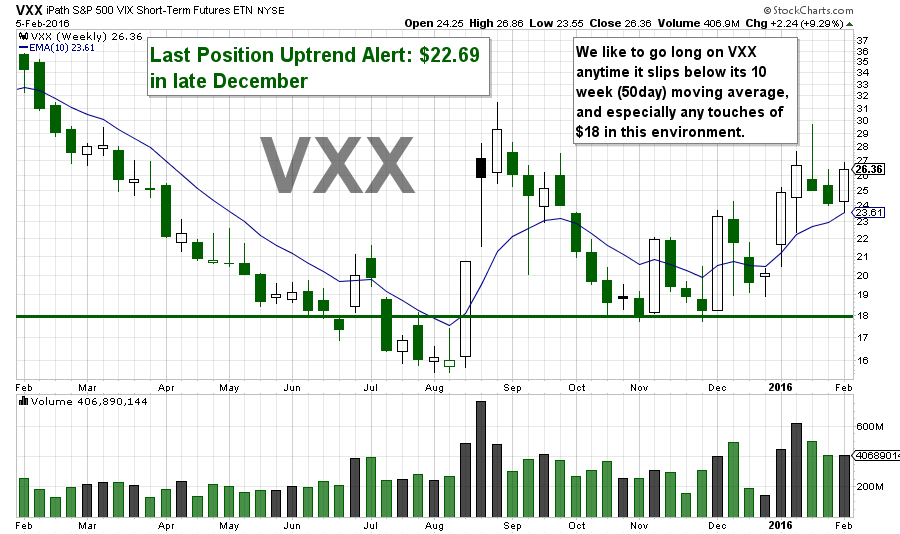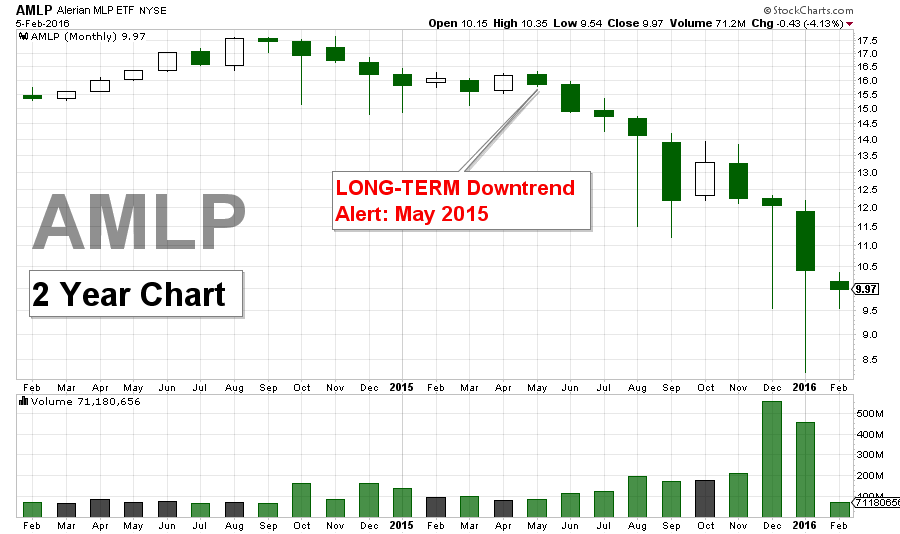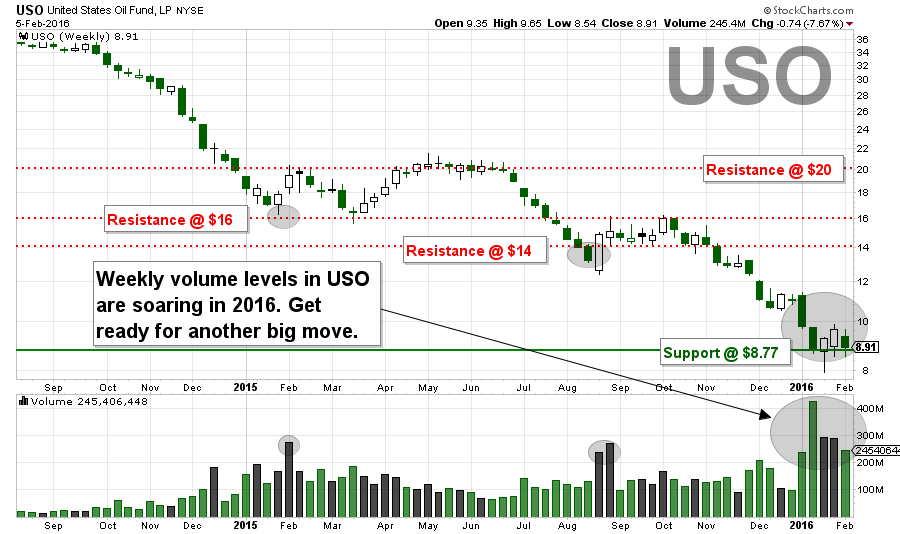 TRADING SETUPS, IDEAS, AND COMMENTARY
REPLAY: Watch Last Tuesday's Trading Conference Call
NOTE: Our live trading conference calls are held every Tuesday and Friday morning for our Pro Trader community. As a Pro Trader, you are invited to attend these live training calls or watch them in replay mode.
Video Description
On last Tuesday's trading conference call we discussed the new Position uptrends in gold, silver, and mining.
Stocks/ETFs We Are Watching
(Click a chart to enlarge)
VXX - Swing Trend View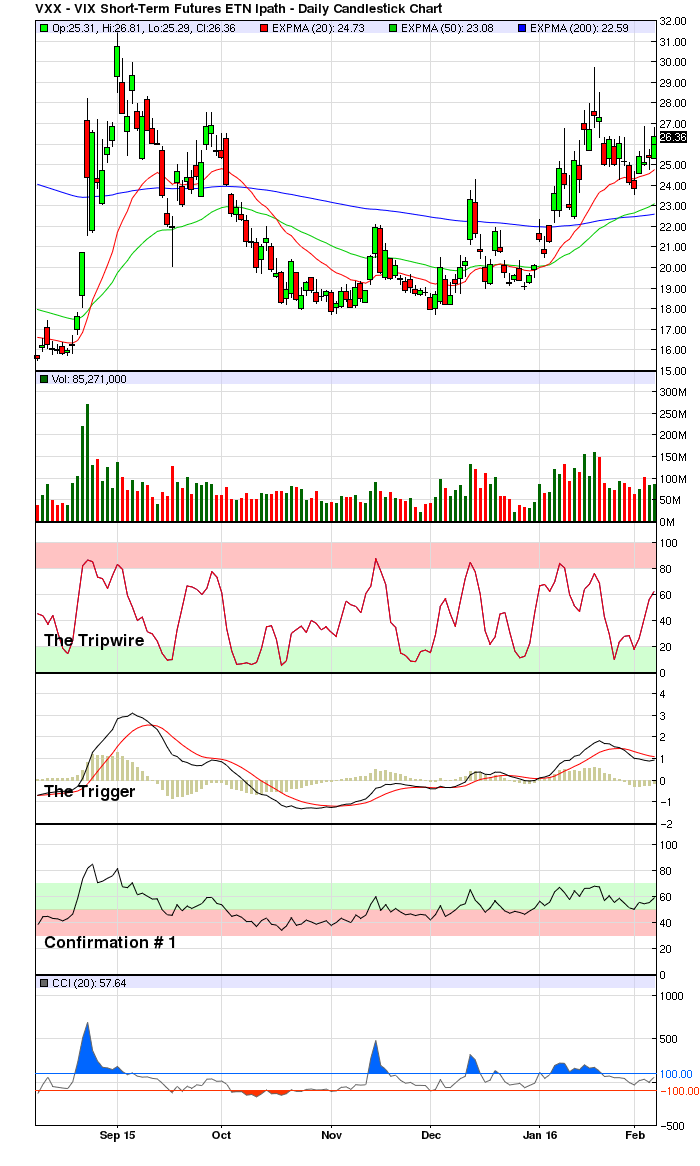 NEM - Long-Term Trend View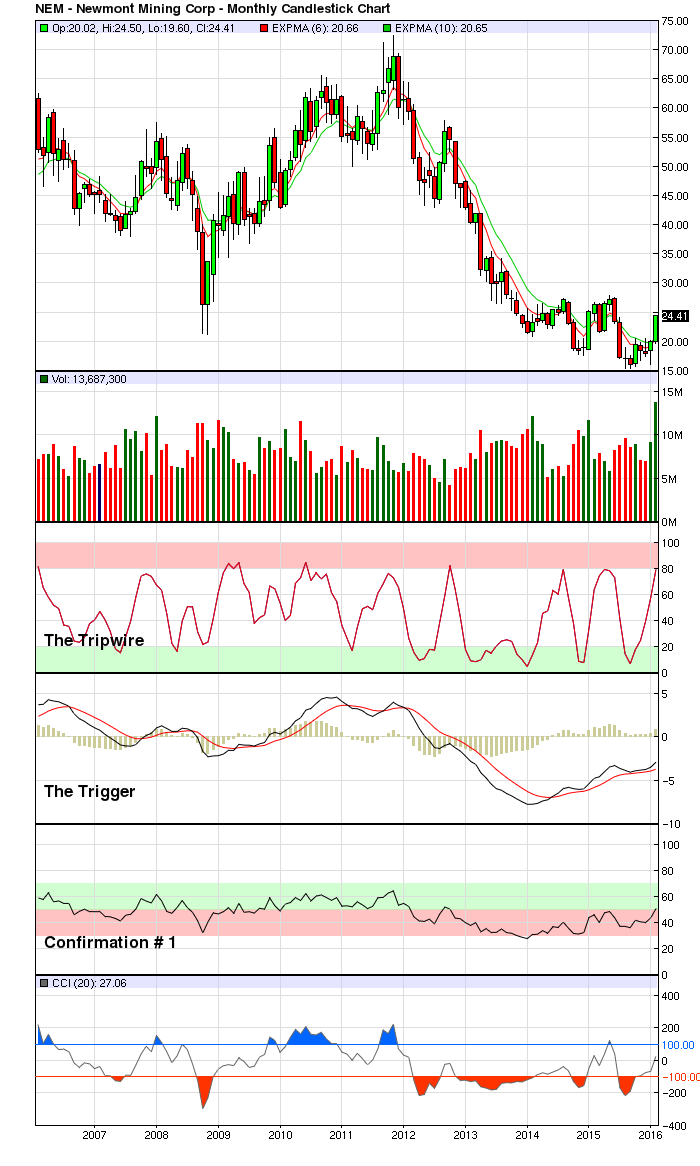 AEM - Long-Term Trend View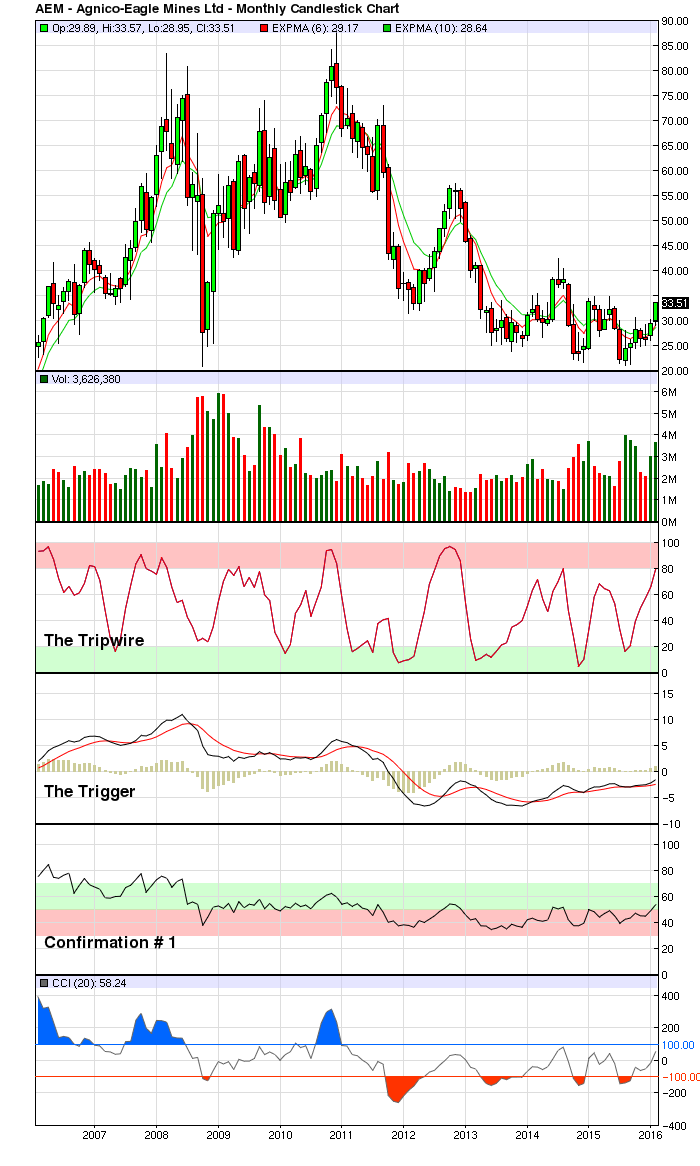 HMY - Long-Term Trend View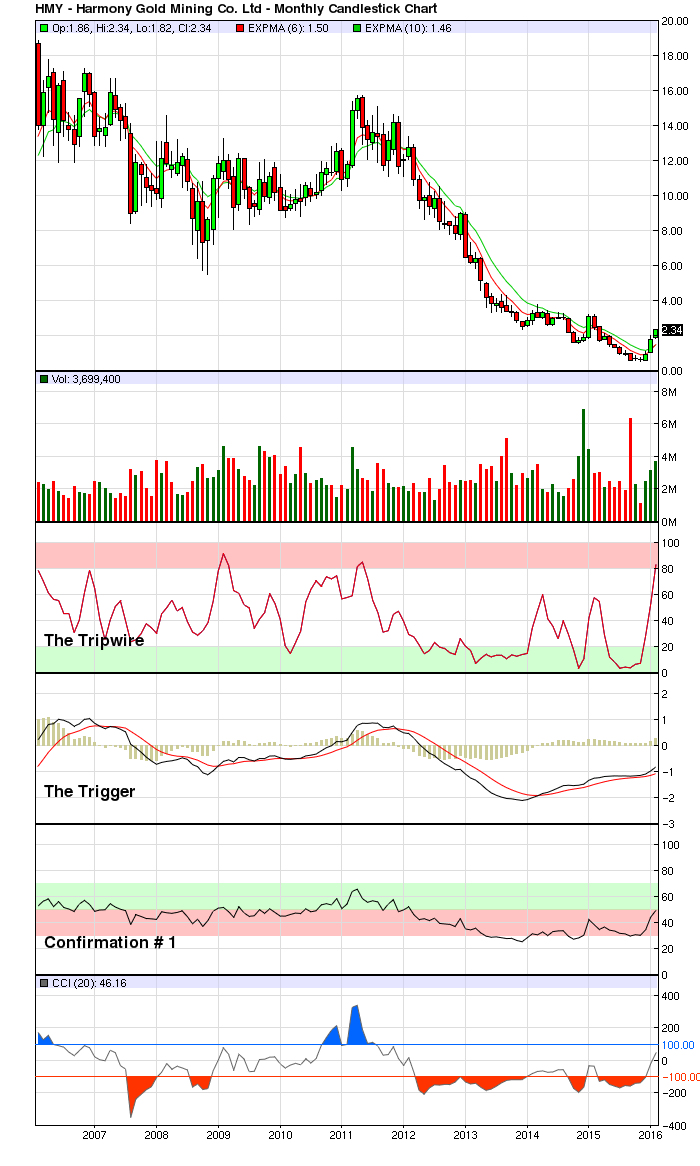 DOG - Long-Term Trend View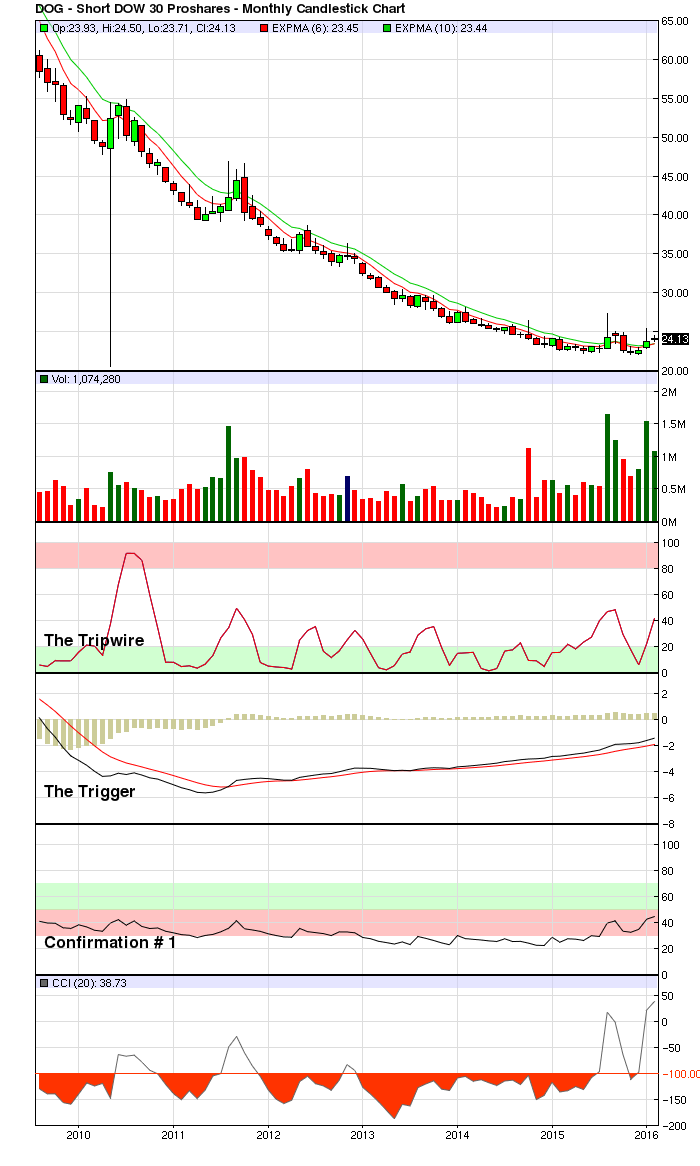 HDGE - Long-Term Trend View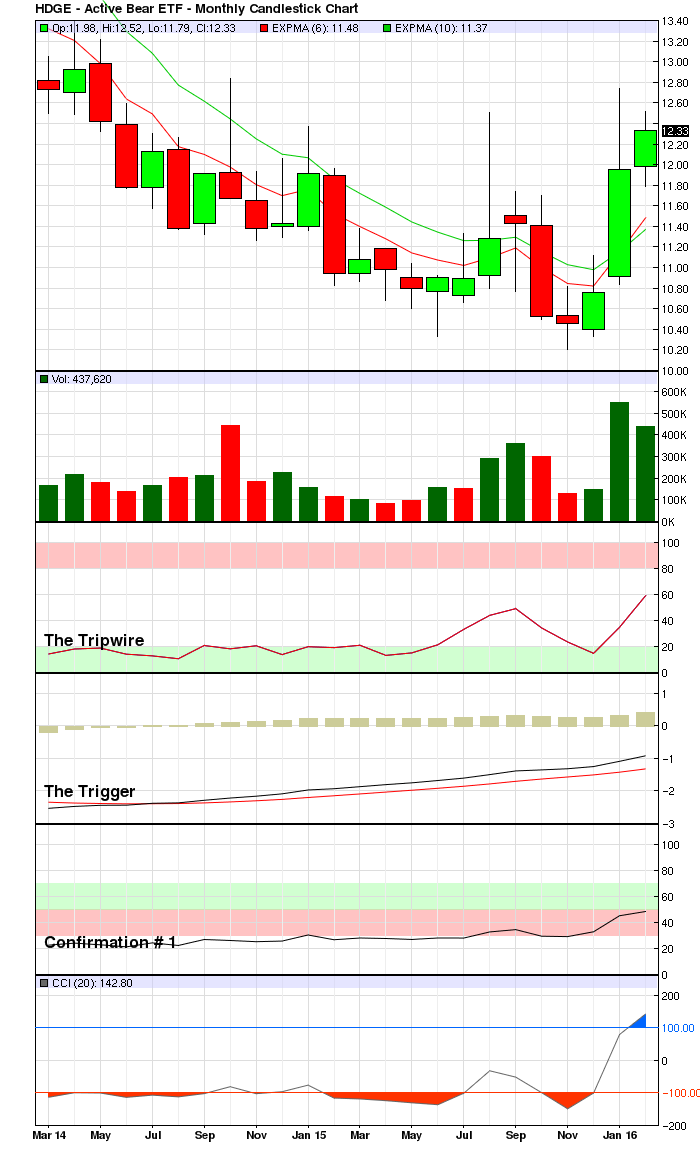 Barron's Pick of the Week
MLPs: The Worst Isn't Over
This week, Barron's provides compelling evidence why Master Limited Partnerships (MLPs) are likely to sink further in price before they finally bottom out.
Read the full report online @ Barron's
NOTE: Last May, our Trigger Trade Pro software revealed a new Long-Term downtrend that was developing in the Alerian MLP ETF (Ticker: AMLP). The trend shows no sign of immediate recovery so we continue to avoid the industry until the trend begins to show new signs of strength.
The Week Ahead: Key Events to Watch
MONDAY
Markets in China, Hong Kong, and Korea are closed all week for the Chinese Lunar New Year
TUESDAY
ELECTION 2016: New Hampshire Primary
WEDNESDAY
U.S. Crude Oil Inventories/OPEC Report
Fed Chairman Janet Yellen delivers her semiannual state of the economy update to Congress
S.F. Fed President John Williams speaks on the economy
THURSDAY
Fed Chairman Janet Yellen testifies before the Senate Banking Committee
The World Gold Council will release its 2016 bullion demand report
FRIDAY
N/A
Jerry Robinson is a Christian economist, author, and investor. He has been trading stocks and options since the mid-1990's and wrote his first best-selling book, Bankruptcy of our Nation, in 2008.
His website FTMDaily.com has tens of thousands of monthly readers in 100+ countries.
Through his cutting-edge economic insights, geopolitical observations, and market commentary, Jerry provides much needed financial wisdom in a turbulent age.